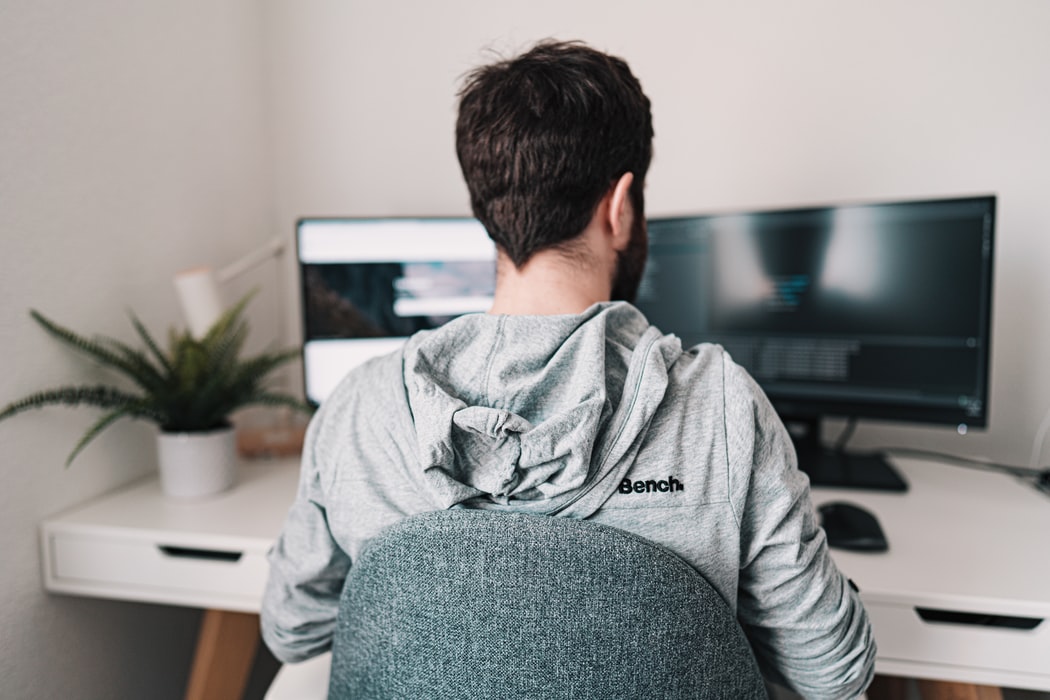 6 MIN READ
Remote work seems to be an ideal solution, especially in IT. However, it is not for everyone. It did not use to be very common, which has led to many myths around it. In recent weeks, due to the state of epidemic threat, it has become a necessity for many people, often suddenly and without any prior preparation. Some will adapt to it, others may need outside help.
There will also be those who will happily return to work in the office as soon as the opportunity arises. The reason for this is obvious – everyone is different and has different needs.
Remote work web developer – a real professional!
Cezary Statkiewicz – Tech Lead, GIS developer, SW engineer at Idego Group.
A programmer with 17-year experience in converting ideas into working code for clients from home and abroad. He has worked on various projects, from simple online stores, through CMS and dedicated e-commerce systems, to social networks, as well as automation of testing mobile applications and processing spatial data based on aerial photos. Feels good with Python and Django but doesn't shun other technologies.
The beginnings of remote work
The initial period of shock and euphoria over remote work might be followed by fatigue caused by this manner of working. Low mood, lack of motivation, less interest in the environment, which together can drive a spiral of deprivation, further decline in mood and physical neglect. In the long run, it can lead to much more serious problems, such as occupational burnout. Now you understand why creating a friendly remote culture is so important.
It can happen to those who have just started working remotely, as well as to people who have been working like that for a long time. Here are several factors that can contribute to occupational burnout:
The Negative Effects of Working From Home
Tedious work on one task/problem. Hardly anyone is a long-distance runner, protracted tasks are mentally exhausting, even if they are ultimately successful.

The opposite situation – when there are a lot of different tasks and no time to focus on getting even one of them done. If this state continues, it can become fairly frustrating, thus leading to conflicts in the team or in the company, or exacerbating them even more

Isolation. It can be mutual. A remote employee can naturally lock himself or herself up in the silo, focusing on his or her tasks and not engaging in extracurricular discussions. It may also be that the rest of the team is not trying to get in touch. The feeling of isolation appears over time, it can evolve differently, sometimes into a sense of danger ("Why doesn't anyone tell me anything? What's going on in the company?") , and sometimes into indifference ("Let them do what they want!").
How to Improve Remote Working – To Remember!
The key to preventing or at least mitigating these phenomena is, of course, communication. Remote work takes away all the small interpersonal interactions that working in the office provides (for some it's a curse, for others, just the opposite). Even if someone is an introvert and needs a small amount of contact with other people, social interactions are nevertheless necessary.
If you are a (remote) employee, remember to:
1. Contact with people, not only from work
This is absolutely fundamental. Since the simplest advice – leave the house after work and meet people – is temporarily unavailable due to the state of epidemic threat, you have to handle it differently. Call family or friends. Don't forget about your neighbors!
2. Separate work time from home time
This is one of the most difficult aspects of remote work and requires practice and self-discipline. A small ritual before and after work can be helpful. It can be a coffee while starting work, a moment of exercise, or a brief read. At the end of a workday, it can be cleaning the desk and turning off / putting to sleep the computer. A wall clock can help you keep an eye on not working overtime.
3. Prepare your workspace
This is very much connected with the previous point. If you can't have a separate room just for work, think about renting a small office or co-working space. Don't work from a couch, hammock or a cafe. The physical separation of the workplace is important for several reasons: it gives you some peace and quiet and the opportunity to concentrate on work.

This is important, especially when you have family and children. Of course, in the current situation, some of these options may not be available and you'll need to improvise.
4. Communicate with the team
Communicate what you do, not only problems but also solutions and ideas. Maybe someone knows the solution to your problem, or are struggling with one that you have already solved. Don't be afraid to ask for advice or opinion, and don't avoid the small-talk you made while working in the office.
As an employer, take care of several organizational matters
Organize work so that there is at least one live conversation during the day (a daily meeting, a stand-up, or anything short). This has several advantages: in addition to formally synchronizing the team, it creates a focal point around which employees build, consciously or unconsciously, their day plan.
If there are strenuous, long tasks, try to distribute them among two or more people so that the responsibility and workload doesn't fall entirely on one person. Such mini-teams can change from task to task, which allows building relationships within the team. Of course, this requires a sufficiently large team and preparation.
Communicate plans for the near future and taking the next steps – in the project and in the company. This will give a sense of stability and predictability to the employees.
From time to time, organize a more casual 1-on-1 conversation with employees. This is not about assessing an employee, but about a simple conversation – what is going on, if there are any problems, if something can be changed or improved. Some people will want to talk often, some will feel the need to have such a talk once a year.
It's great when you can organize a more open conversation with the team from time to time. It can be about projects, it can be about a company – it's about sharing thoughts, moods, ideas and fears.
Take a coffee break while working remotely – let the meeting take place during a casual conference call and last about 10-15 minutes. It can be over coffee or tea. The important thing is that it's a time for the usual conversations about everything and nothing.
Once the situation returns to normal, organize a real life meeting. Make up for all those hours you spent away from one another.
The Dangers of the Remote Work – Short Summary
Both, on the side of the company as well as each of us, there are actions worth implementing to make remote work more enjoyable and more efficient. It is also worth considering which practices (especially, if they are new to the organization) should particularly be taken care of and applied in the future and also remembered when it is again safe to leave the house. Stay healthy!