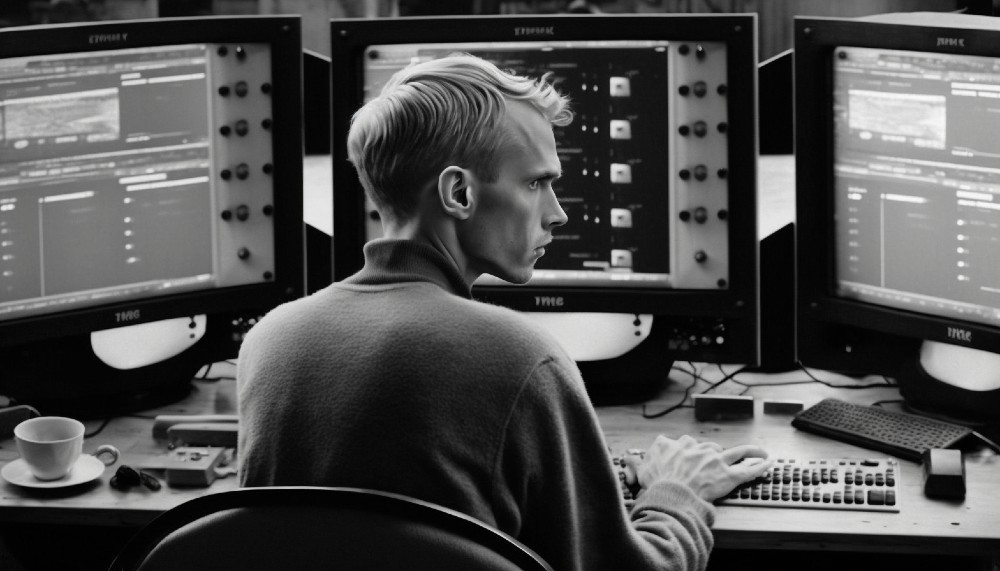 Fasten your seatbelts, folks! If you're even remotely interested in the Nordic software job market, you're in for a wild ride. We took a dive into 4,631 software job ads on LinkedIn from the Nordics, including Finland (1,121), Norway (1,044), Sweden (1,040), and Denmark (930). Iceland, unfortunately, didn't make the cut due to insufficient data (no hard feelings, Iceland).
Table of Contents
In this report, we will explore various facets; we'll dissect the ins and outs of the Nordic software job market – from the ongoing battle between on-site, hybrid, and remote work preferences, to the hot skills employers are clamouring for, to the seniority levels they're eyeing, and the industries that are churning out jobs like nobody's business.
We'll also subject these job ads to a text analysis to expose what employers are really saying about the work environment, salary, and benefits.
So, grab a cup of coffee (or whatever beverage you prefer) and join us as we take you on a ride of the Nordic software job landscape.
On-site, Hybrid, or Remote?
Our analysis of the Nordic software job market has revealed some intriguing differences in workplace preferences across Denmark, Finland, Norway, and Sweden.
In the mighty clash of workplace preferences, the Nordics are picking sides! It's a two-horse race, with Denmark leading the charge as the staunch defender of on-site work, boasting a colossal 62.68% of on-site positions. Norway isn't far off, muscling in with 59.5% on-site roles.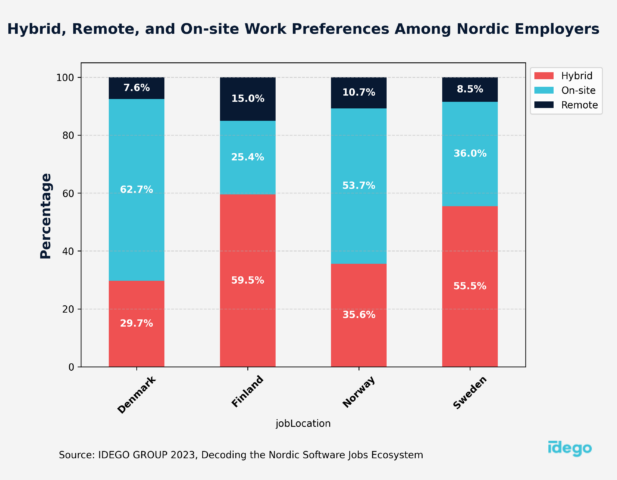 On the other side of the battlefield, Sweden and Finland are all-ins on hybrid work, with 55.49% and 59.5% of positions in their corner, respectively. But here's the shocker: nobody really loves the full remote work style in the Nordics.
So, if you're a fan of remote work, you might need to up your game or pack your bags!
Desired experience levels
In a fascinating twist, our analysis of the Nordic software job market unveils a strange but not unusual tilt towards Mid-Senior level professionals, who claim a whopping 54.67% of the job offerings. Entry-level roles, in contrast, represent a still-respectable 33.78%.
This differs significantly from the typical pyramid-shaped development team structure, where each senior role is matched with several juniors, which should be reflected by the demand of certain seniority levels in the job classifieds.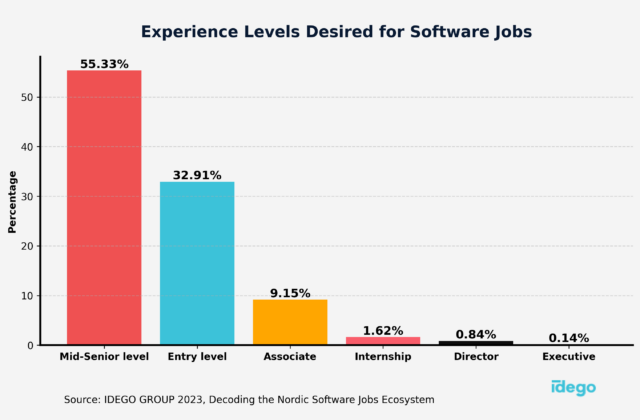 A swift comparison with several other countries reveals that it's not a "nordic anomaly" but rather a trend. A similar distribution was found in Germany, the Netherlands and Spain; only UK was significantly different (Entry level: 67.57%, Mid-Senior level: 23.79%)
So, why this departure ? Let's speculate.
One possibility is that Nordic companies may have already established a strong base of junior talent and are now focused on expanding their workforce with more experienced professionals to drive innovation and growth.
Another explanation could be that the region is experiencing a "brain drain" with junior talent migrating to other countries for opportunities, compelling local companies to rely more on Mid-Senior level professionals.
Ultimately, this unique dynamic in the Nordic software job market could stem from a combination of factors, including regional economic trends, workforce development strategies, and industry-specific demands.
The Industry Smorgasbord with IT & Services Taking the Lead
Now, let's take a dive into the industries driving the Nordic software job market. Brace yourselves because we've got a whopping 187 industries on the list!
However, it's no surprise that Information Technology & Services reign supreme, capturing up a mammoth 32.52% of job offers. Staffing and Recruiting trails behind with 11%, but let's not forget these folks are often the matchmakers between eager candidates and companies hailing from every corner of the industry landscape.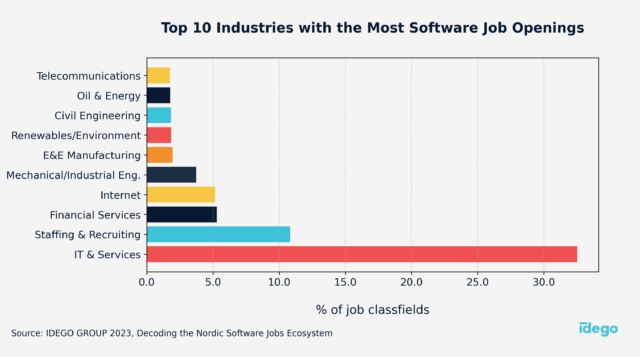 After that, we see Financial Services grabbing 5.29%, the Internet sector snatching 5.17%, and Mechanical or Industrial Engineering claiming 3.74%. The remaining industries form a long tail, representing a diverse array of sectors vying for software talent.
The bottom line? Software skills are hotter than a Scandinavian sauna, and with this smorgasbord of industries hungry for tech-savvy pros, it's clear that they're the secret sauce for success in today's digital age.
In-Demand Skills
Instead of engaging in a round of verbal ping-pong, feast your eyes on the charts, they are self-explanatory. The popularity was measured by counting occurrences of the 956 skills in the job descriptions.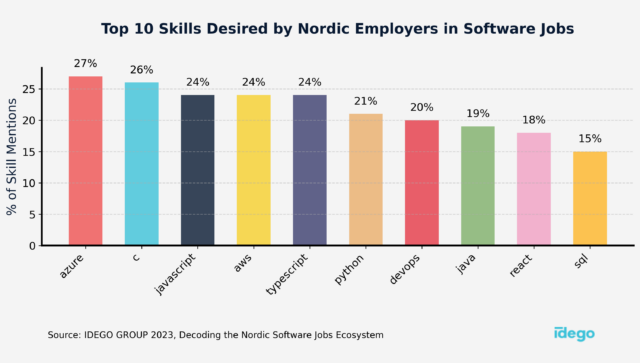 To give you the most accurate and relevant insights, we've removed generic terms like "programming" and "software development" as well as broad category names like "full-stack" and "frontend" that initially ranked in the top 10.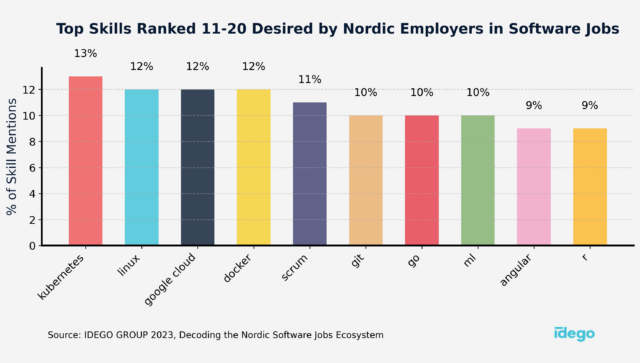 Text Analysis of Job Descriptions
To better understand what employers offer to the candidates, we've put job descriptions under the microscope by running a text analysis. We've zeroed in on words like "work," "salary," "benefits," "culture," and "atmosphere" that represent important ingredients in successful teams we've identified in our previous research.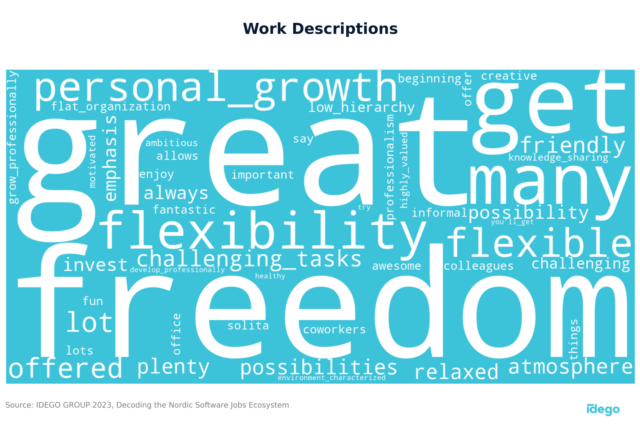 In particular, we were searching for the words that are semantically similar and frequently pop up in relation to these crucial elements and are descriptors of them.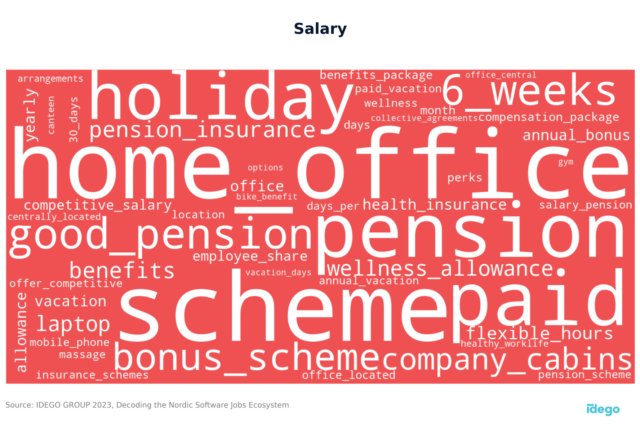 Although this method offers some valuable insights, it's essential to recognize that to draw more meaningful insights from the job descriptions, you may want to consider additional analysis techniques that can provide deeper information.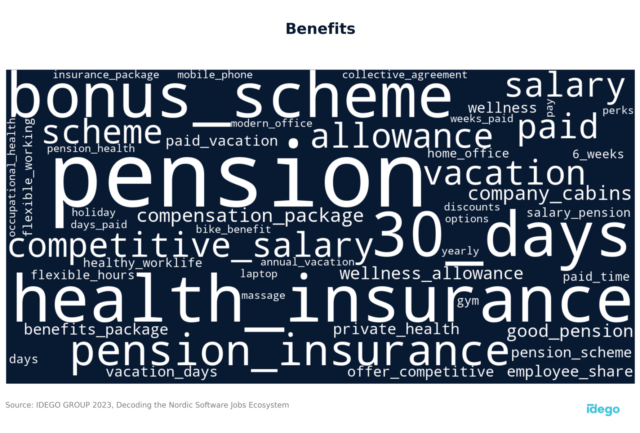 Nordic software job recruiters prioritize work aspects like great environments, freedom, flexibility, and personal growth, along with challenging tasks and friendly atmospheres. They emphasize benefits and perks over specific salary details, focusing on work-life balance, physical wellness, and financial security.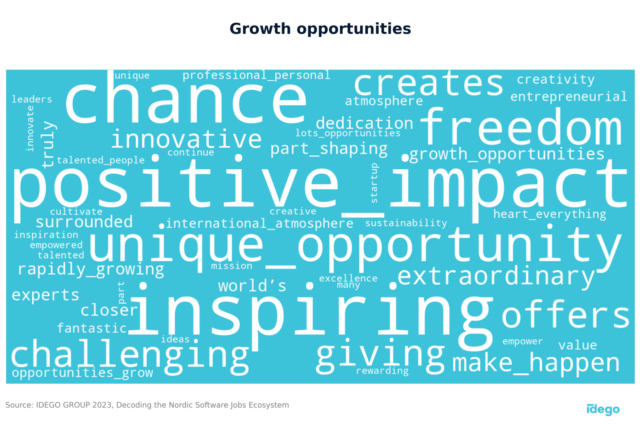 This is particularly interesting as it is well known that the salary is the number 1 driver or number 2 in the worst-case scenarios.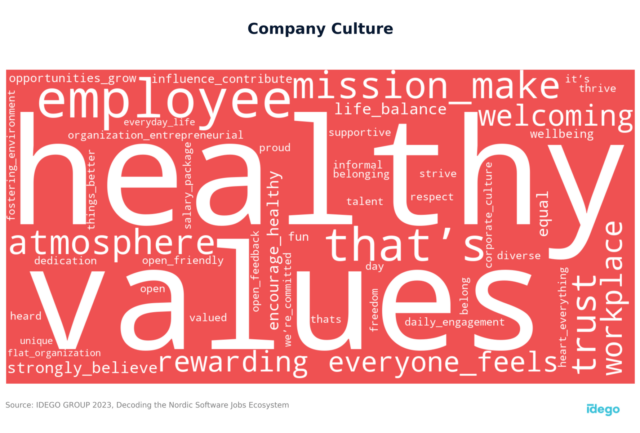 Moreover, recruiters highlight flexibility, positive atmospheres, professional growth opportunities, and flat organizational structures as part of their offerings. A healthy company culture is valued, promoting trust, inclusivity, work-life balance, and an entrepreneurial spirit, with an emphasis on a positive, informal workplace atmosphere that fosters open communication and collaboration.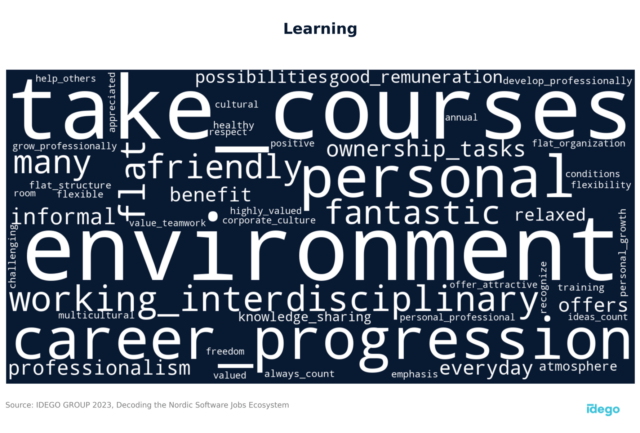 Conclusion
In wrapping things up, let's cut through the hype and get down to the brass tacks of the Nordic software job market.
In the Nordic software job market, a distinct preference for on-site and hybrid working models, coupled with a demand for mid-senior level talent, has created a rich landscape for qualified professionals. Spanning a diverse range of industries, the market is increasingly attractive for those with software expertise.
Nordic employers demonstrate a commitment to cultivating exceptional work environments, emphasizing flexibility and personal growth opportunities. Rather than focusing solely on salary, they prioritize a comprehensive array of benefits and perks, showcasing a holistic approach to employee well-being and satisfaction.
So, what's the bottom line? The Nordic software job market is a distinctive beast, carving out its own path in the global landscape. With a focus on nurturing talent and maintaining a balanced, supportive work culture, it's no wonder this region is making waves in the world of software development. Give it a shot, and you might just find that it's the breath of fresh Arctic air you've been craving.
Key Takeaways
The nordic software job market shows a preference for on-site and hybrid work, with less emphasis on full remote work.
Unusual tilt towards mid-senior level professionals, differentiating the Nordic market from other regions.
IT & Services dominate the industry landscape, with a diverse array of sectors seeking software talent.
In-demand skills cover a wide range, highlighting the versatility required of software professionals.
Job descriptions emphasize positive work environments, flexibility, personal growth, and healthy company culture.
Nordic recruiters focus on comprehensive benefits and perks rather than specific salary details, valuing work-life balance, wellness, and financial security.
Limitations: The data was collected only from one source (Linkedin), which might not reflect the whole market. The study is missing qualitative data, and human insight, which could be gathered via interviews.