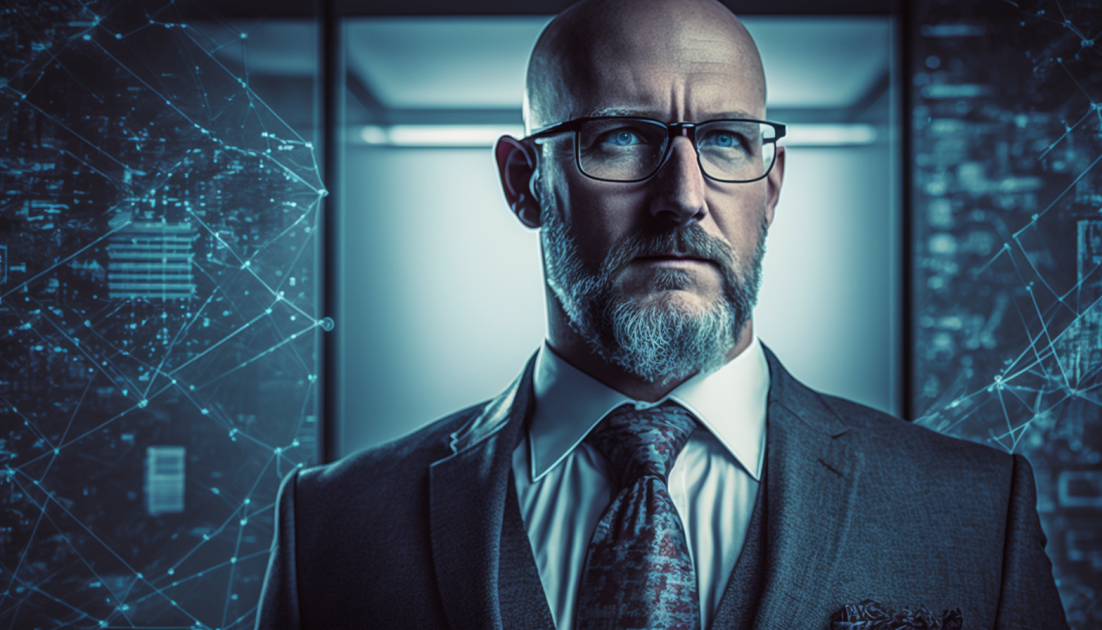 In today's digital age, the role of the Chief Information Officer has become increasingly important. But let's not sugarcoat it – this is a tough gig. You need to be able to oversee an organization's technology strategy and implementation, all while driving competitive advantage and operational efficiency. So, how do you get there?
Well, in this article, we'll dive into the path to becoming a CIO, focusing on Swedish CIOs based on an analysis of 1214 LinkedIn profiles. We'll explore the different types of CIOs, their career paths, skills, education, and industry backgrounds.
And I won't mince words – this is a tough job, and it takes a special kind of person to succeed. But for those willing to put in the hard work, the rewards can be immense. So, let's get to it.
Table of Contents:
Two types of Swedish CIOs: deliberate vs accidental
In our analysis of the Swedish CIO landscape, we identified two distinct types of CIOs – deliberate and accidental. Deliberate CIOs are those who have deliberately chosen a career path in IT and see the CIO position as a natural progression in their career trajectory.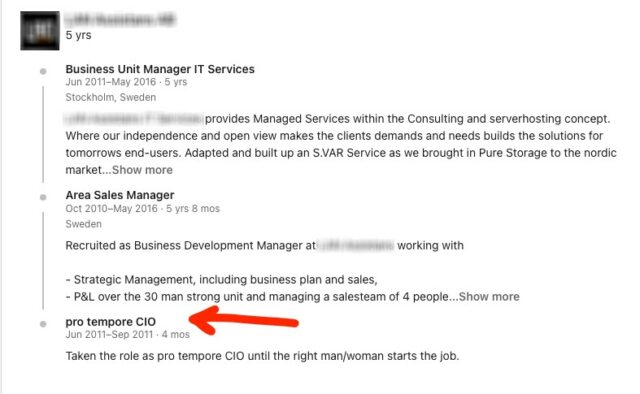 In contrast, accidental CIOs are those who assume the CIO position due to current circumstances or a need of the moment. While they may have backgrounds in various fields, such as operations or HR, the largest group comes from a business development background. It's worth noting that this group is less likely to continue a career in IT, instead being more inclined towards CEO or founder roles.
In the following sections, we focus mainly on the ones that choose the career deliberately.
Does CIOs are promoted or appointed?
According to our analysis, 67.1% of Swedish CIOs were appointed to the position, while 32.9% were promoted from within the company. Interestingly, changing companies appears to be a more viable path to the CIO role, as opposed to staying with the current employer. These numbers represent the deliberate type of a CIO, if we take into account the accidental ones, the percentage of appointed CIOs will rise to roughly 82%.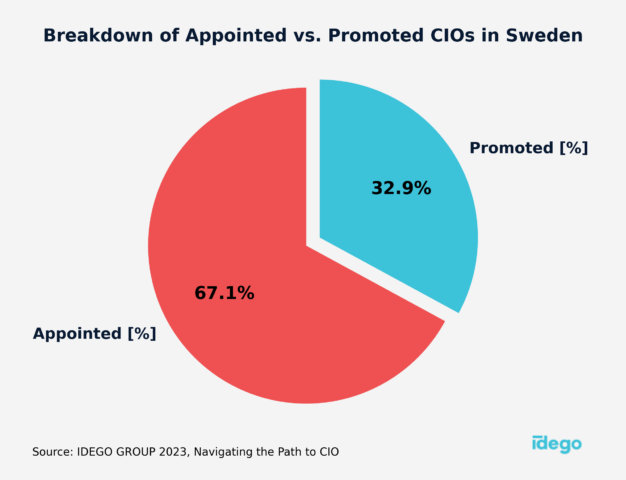 However, if you aspire to become a deliberate CIO, statistics indicate that you are more likely to stay in that position for the long term, with at least 30% of CIOs remaining in their role "indefinitely". Alternatively, some CIOs may transition to other leadership positions in the IT division, such as IT Director, CTO or equivalent.
A smaller portion of CIOs will go on to become CEOs, consultants, or board members. On the other hand, if you represent the accidental type of CIO, you are more likely to pursue a career in your main domain, create your own venture as a founder/owner, or take on a CEO or board member role.
How company size affects the availability of CIO jobs?
Most CIOs (over 21%) work for companies with 51-200 employees, followed closely by companies with 1,001-5,000 employees at 20%. The third most common company size for CIOs is 201-500 employees. However, while the proportion of CIOs in smaller companies may be higher, it's important to consider the actual number of companies of each size.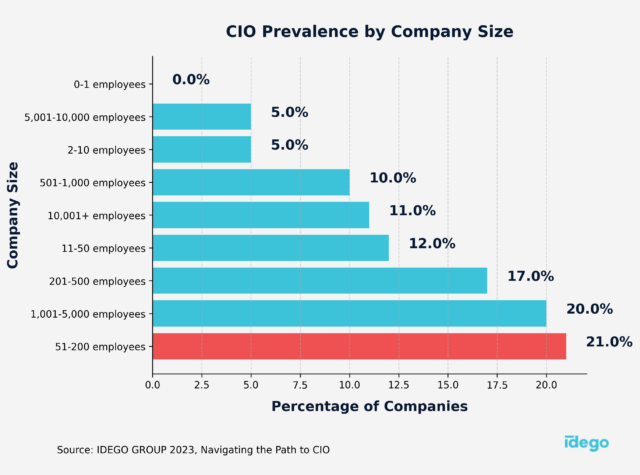 For instance, there are a few thousand companies in the 51-200 employee range, whereas there are about 300 companies with 1,001-5,000 employees.
This means that only 3% of companies in the 51-200 employee range have a CIO, compared to 30% of companies with 1,001-5,000 employees. Therefore, it may be more beneficial to target companies with a larger employee range to increase the likelihood of finding a CIO position.
What is the career path to becoming a CIO?
The path to becoming a CIO is not a linear one. While it is difficult to identify a clear pattern, there are some common experiences that are often seen in the CIOs' past employment.
According to our research, it takes an average of 4-5 jobs to reach the CIO position, although this number may be higher as some individuals may exclude early jobs from their LinkedIn profiles. Five job changes might not seem much, but it takes 15.5 years of experience on average before one can reach the CIO position.
The common experiences among CIOs include previous roles as IT Manager, Consultant, IT department head, or project manager. Furthermore, it is relatively common for CIOs to have served on the board or as CEO prior to assuming their current position. However, there is no clear-cut path to becoming a CIO, and each individual's journey is unique. Compared to CTOs, CIOs seem to have more background in project management rather than hands-on experience in software development.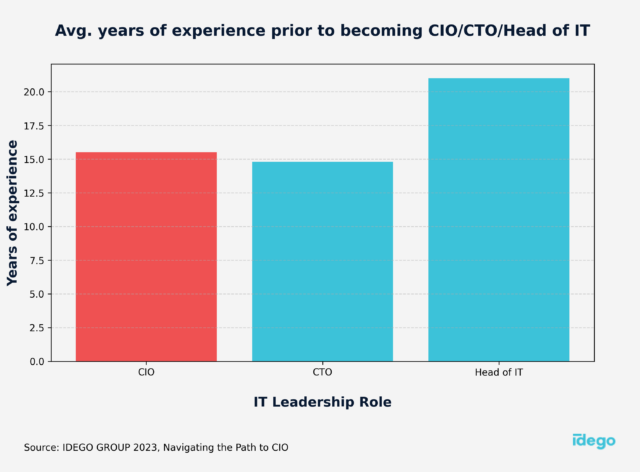 It's important to note that our analysis provides only a snapshot of the career paths of CIOs in this particular dataset. The results may not necessarily reflect the broader trends in the industry, and the job titles may not necessarily reflect a linear "career path," as individuals may have moved between different industries or sectors throughout their careers.
Insights into CIO tenure
According to our study, the typical duration of a CIO's tenure has been reported to be approximately 62 months (5.1 years), which is noticeably longer than that of the Chief Technology Officer (CTO), who remains in the position for an average of 41 months (3.4 years) and Head of IT for 34 months, only the IT manager has a better score at 72 months (6 years).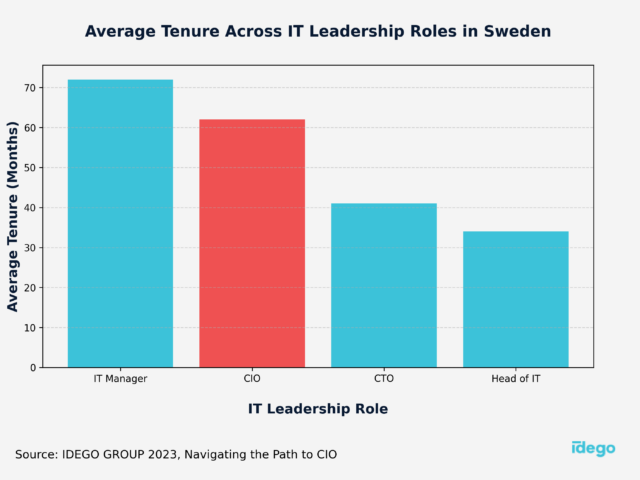 Furthermore, in approximately 21% of instances, the CIO role is found to be paired with additional roles such as Head of IT or similar equivalents, suggesting a trend towards combining job responsibilities within IT leadership. These findings provide valuable insights into the evolving nature of technology leadership roles and the challenges they face in managing complex IT environments.
An overview of CIO skills
Ah, the skills of CIOs. It's like looking at a grocery list, isn't it? Before we delve into the top skills listed on their profiles, let's keep in mind that these folks have curated their own digital footprints. It's human nature to put our best foot forward, so we must approach these skills with a healthy dose of scepticism. Let's get to the skills, shall we?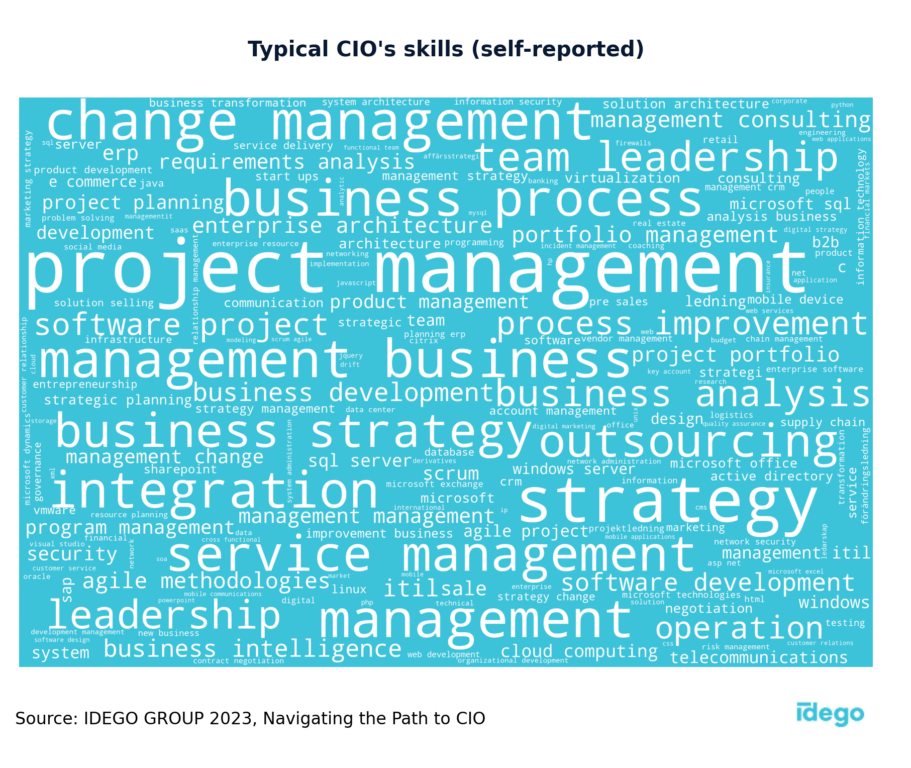 The top skills listed on CIOs' profiles are a mixture of old and new. Project management reigns supreme, with 263 mentions, followed closely by change management at 232. IT strategy and IT management share the third spot, both with 225 mentions. These skills make perfect sense, given the ever-increasing pace of technological change and the need for strategic leadership in navigating it.
But it's not just about hard skills. Team leadership, leadership, and outsourcing all make an appearance in the top 15, indicating the importance of interpersonal skills and the ability to manage both internal and external stakeholders.
Overall, it's a fascinating insight into the skills that CIOs believe are important to showcase on their profiles. But remember, folks, always take these things with a pinch of salt.
The educational backgrounds of Swedish CIOs
Certain universities and institutions are more likely to produce CIOs than others. KTH Royal Institute of Technology ranks first, followed by Stockholm University and Lund University. Uppsala University and Linköping University round out the top five. Other notable institutions include the Stockholm School of Economics and the Chalmers University of Technology.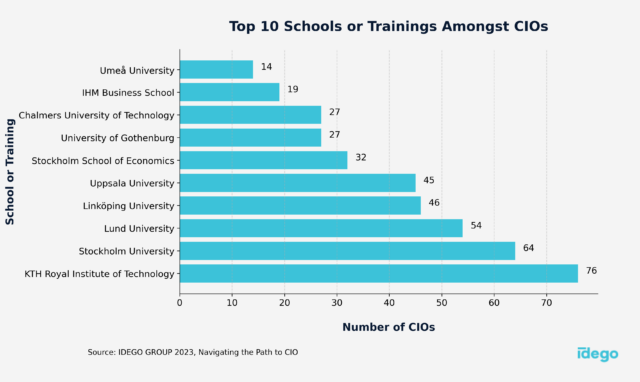 Off course, universities in Sweden are not equally geographically distributed. While there are universities located in various parts of the country, most of them are concentrated in the southern and central parts of Sweden; hence it is not surprising to see that the top institutions producing CIOs are also located in these regions.
What's more, the chart above represents approx 30% of all universities, schools and training as well as other educational institutions, the remaining 70% is scattered among many different organisations without clear leaders. That means that there is no go-to industry must-have training which we have hoped to find.
Geographic Distribution of CIOs in Sweden
Let's shed some light on the geographic distribution of Chief Information Officers (CIOs) across Sweden.
The study reveals that the Greater Stockholm Metropolitan Area holds the lion's share of CIOs with 172 executives, followed by Sweden as a whole with 79 CIOs (ppl that specified only country in their Li profile) and Stockholm County with 70 CIOs. The Greater Gothenburg Metropolitan Area and the Greater Malmö Metropolitan Area also boast significant numbers of CIOs, with 53 and 23 executives, respectively. The remaining regions exhibit a varied distribution of CIOs, with some areas containing just one or two CIOs. Overall, the findings suggest that CIOs are predominantly located in the major metropolitan areas of Sweden, with a lower concentration in more rural or remote regions.
Financial and IT Services: Top Industries for CIOs
The data indicates that CIOs are not limited to specific industries and are vital across a wide range of sectors, including automotive, civil engineering, gaming, hospitality, and many others. In our data, Swedish CIOs represent 128 different industries, demonstrating the versatility and importance of this role across various fields.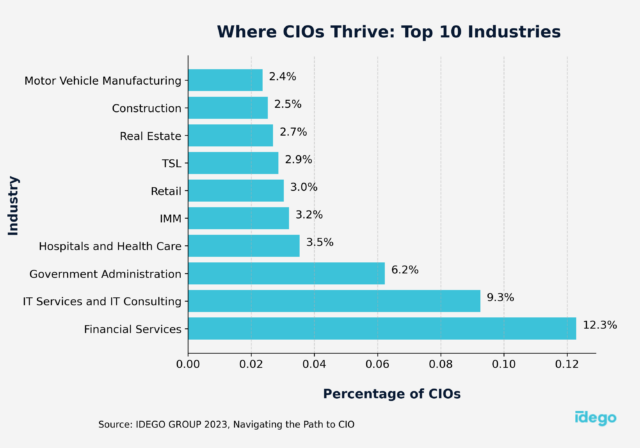 However, the majority of CIOs work in Financial Services (including insurance and Banking), Government Administration and IT Services/Consulting, which make up a combined 27.8% of the total CIO workforce.
Interestingly, retail and transportation/logistics industries, traditionally not associated with technology, have a significant number of CIOs, with 3.03% and 2.86% of CIOs working in these industries, respectively.
These findings highlight the growing importance of technology in today's business landscape and the critical role that CIOs play in driving digital transformation in various industries. It is evident that organizations across different sectors recognize the value of having a CIO to lead their technology initiatives and ensure that they remain competitive in a rapidly evolving digital environment.
Conclusion
Overall, the path to becoming a CIO is not a linear one, and each individual's journey is unique. However, by understanding successful CIOs' common experiences and requisite skills, aspiring IT professionals can better navigate their path to this challenging and rewarding role.
In conclusion, becoming a CIO is a challenging career path that requires deliberate effort and a specialized skillset. Those interested in pursuing this role should aim to acquire relevant experience and education, develop leadership and communication skills, and cultivate strategic thinking abilities. Additionally, identifying and targeting companies with a larger employee range may increase the likelihood of finding a CIO position.
Key takeaways
Two types of CIOs were identified – deliberate and accidental. Deliberate CIOs are those who have chosen a career path in IT and see the CIO position as a natural progression, while accidental CIOs assume the position due to current circumstances or a need of the moment.
The majority of CIOs (67.1%) are appointed to the position, while 32.9% are promoted from within the company.
The sweet spot for CIOs is in companies with 1,001-5,000 employees, which account for roughly 20% of the total.
It takes an average of 5.2 jobs and 15 years of experience to reach the CIO position, and common experiences among CIOs include previous roles as IT Manager, consultant, IT department head, or project manager.
Requisite skills for CIOs include strategic thinking, leadership, communication, management and technical expertise.
The CIO role is challenging, but for those willing to put in the hard work, the rewards can be immense.
Technical notes:
Three data sets were used, collected via Linkedin Sales Navigator in Feb 2023:
– DS1, N=1214, People in Sweden who currently hold the CIO position
– DS2, N =1108, People in Sweden who hold the CIO position in the past
– DS3, N = 1294, Data from the search results when searching for a CIO
– irrelevant people were excluded,
– All average figures were counted excluding outliers (2*SD).
– CL: 95

Limitations: The data was collected only from one source, which was completed by the CIOs themselves. The study is missing qualitative data, and human insight, which could be gathered via CIOs interviews.
Tech stack: Python, Pandas, Matplotlib etc.
Contributors: Robert Molenda, Andrzej Kopera