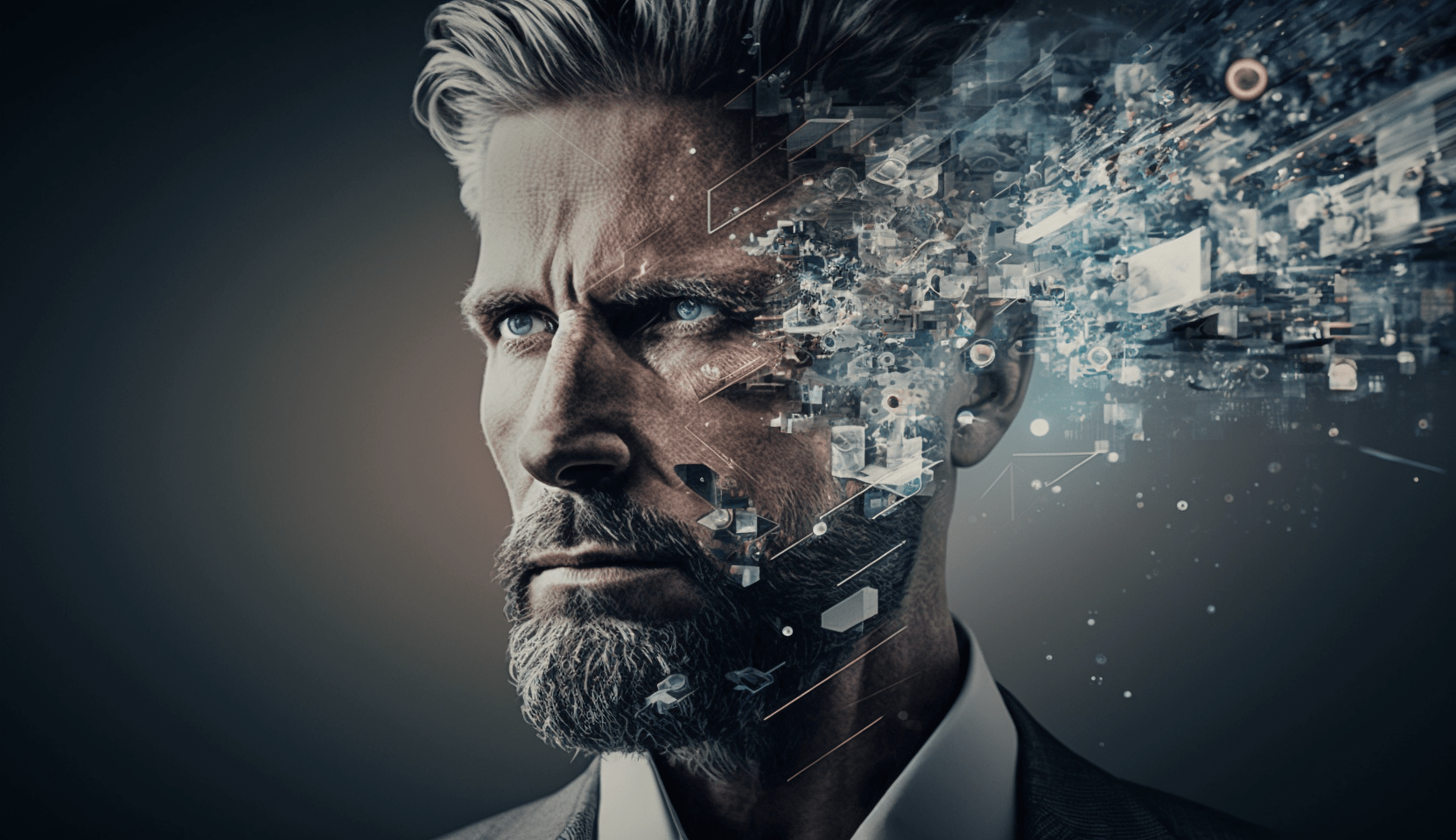 The number of guides and studies on digital transformation published by well-known and respected organizations demonstrates how important it is today. We decided to choose four interesting articles by Gartner, HBS, CIO.com, and Forbes and present the most important themes and create a brief and concrete text that you will find useful. However, before we get into the meat of the matter, a brief introduction is in order.
Table of Contents
Introduction
It goes without saying that carrying out a digital transformation process necessitates the appropriate knowledge and tools. But is that enough? The success of the digital transformation is also determined by the personality traits and behaviors that a CIO or leader should exhibit. Being a CIO entails a great deal of responsibility or the ability to deal with uncertainty and change. Digitization is not only disrupting business operations but also changing leadership.
During a digital transformation, changes occur at all levels, especially when it comes to talent and capabilities. According to a McKinsey survey, nearly 70% of all respondents said that during the transformation, the top teams in their organizations changed when new leaders with digital expertise joined the management team.
Leaders who are familiar with digital transformation are critical to the transformation's success. The same is true for engaging transformation-specific roles, such as leaders of specific initiatives and program management or transformation office leaders who are fully committed to the change effort. Another aspect of success is leadership commitment. Transformation success is more likely when key individuals are more involved in digital transformation than in previous change efforts. According to the survey results, less than a third of all respondents have hired a chief digital officer (CDO) to help with their transformations. However, those who do are 1.6 times more likely than others to report a successful digital transformation.
Top traits of leaders
A good leader must possess certain traits in order to succeed in digital transformation. According to Gartner, CIO.com, Forbes, and Harvard Business School, the following are the most important characteristics of an effective digital transformation leader:
Be a neophiliac (Gartner)
It's a person's tendency to seek novelty. Neophiliacs accept and implement ideas different from others, a key element in any successful digital transformation. Successful digital CIOs are creative and focused on innovation.
Be innovative, but also copy (Gartner)
Successful digital leaders understand where their organizations must differ, where they can copy, and where they should innovate. Digital leaders concentrate on areas that offer the greatest advantage, acceleration, or value contribution. In areas with less potential, digital leaders copy and improve on previously established methods.
Be a pioneer and look beyond industry boundaries (Gartner)
Gartner defines "digital dragons" as leaders who actively seek value beyond any specific industry and create entirely new, redefined industries. Instead of viewing the industry as stable and unchanging, successful digital leaders recognize risks and make decisions while maintaining a clear vision of its future.
Never consider digital to be the outcome (Gartner)
Digital technology is a means to an end. Making something digital does not automatically increase its value; in fact, it may decrease it. By adding digital features or extending the life cycle of a product, digital technology tools can either change the way people work or change products and services. Digital tools like on-demand services, dynamic pricing, hyper-personalization, and real-time applications can help you improve your value proposition.
Be a technology geek (Gartner)
CIOs are responsible for creating a technologically enhanced environment in which learning is personalized, engaging, and collaborative. Geeking out on technology as a passion is one way to remain innovative and relevant in crowded and competitive business environments.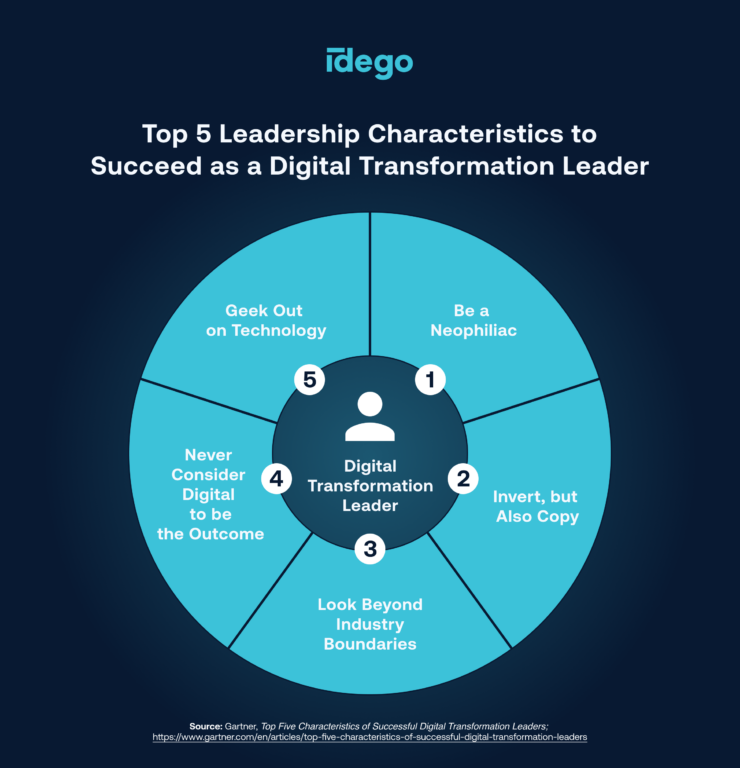 Be a catalyst, not a planner (HBS)
Leaders must catalyze change rather than plan it, that is, create the conditions for the organization to achieve its goals and guide the organization through a continuous learning process. Those who rely on traditional strategic thinking will be less sensitive to the new factors that must be addressed.
"Leaders will be blindsided if they rely only on their past experience or expertise when making decisions. Even with more data and analytics, executives we talked to said that leaders still need to adopt holistic thinking and stay open to the unexpected. They must learn to stretch their own imagination and creativity" to envision what the future could be for the company and its stakeholders, anticipate possible scenarios, and prepare to adapt to whatever unfolds".

Be an explorer (HBS)

Leaders must be explorers while balancing curiosity with intentionality, figuring out when to be open-minded and when to be focused and dig deep. Leaders must be explorers while balancing curiosity with purpose, figuring out when to be open and when to be focused and dig deep. They must learn to pick up on "weak signals" about what's going on in their organizations, because "by the time a weak signal becomes a trend, it's often too late, especially when first mover advantage is involved".

Be courageous (HBS)

Leaders must learn to experiment, iterate, and change if their organizations are to thrive. Leaders need a new approach to risk in order to manage inevitable mistakes. With more risks than ever – cyber security, pandemics, reputational risk, and social crises – executives must have the courage to make big decisions. One director interviewed by HBS said: "Leaders need to move from seeking answers to all questions to feeling comfortable with discomfort". 
Be present (HBS)

Working in the digital age has become complex and demanding for employees. They are expected to take more risks by innovating and experiencing new human-technology interactions. The best leaders are emotionally engaged and present, communicating openly and authentically. These managers are empathetic (they monitor employee stress and anxiety and try to prevent overload and burnout during times of upheaval), sensitive (they learn how to be more comfortable in emotionally charged interactions with employees, customers, and suppliers), and experienced storytellers (clear communication and storytelling have never been more important to leadership). Authentic conversations contribute significantly to employee engagement and ownership.
Live values with conviction (HBS)

Many employees will be hesitant to change their thinking, behavior, and skills if they do not appreciate the value of doing so. As a result, leaders must be clear about what they are doing and why they are doing it. Leaders must be clear about the organization's common purpose, as well as who they are (corporate values) and who they serve (customers and key stakeholders). Leaders who lack a sense of purpose will struggle, even though they must be open to new ideas and changing circumstances.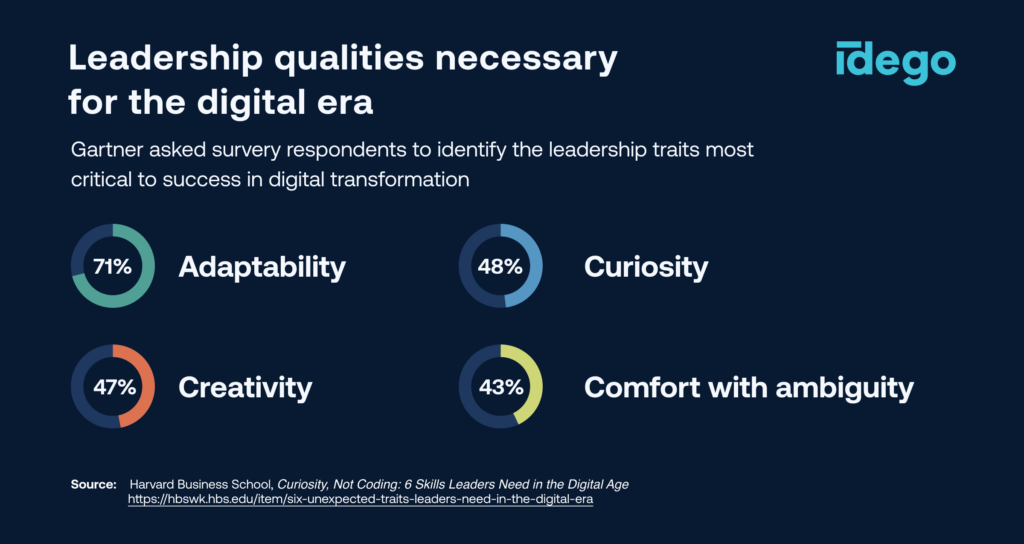 Adapt (CIO.com)
John Elton, CIO at TIAA Bank told CIO.com that adaptability was a skill that helped him significantly during the pandemic.
"My mindset changed and I started looking at internal processes in more detail and working with [industries], which was quite a change" – Elton says. "It's not that we didn't do it before, but… being able to adapt and change the focus changed the rules of the game".
Being a leader also entails adapting to "a different IT perspective on how they do the work. Therefore, the way we communicate with teams and motivate them has to change". Another form of adaptability is the ability to make technological changes without disrupting other ongoing initiatives and strategies.
Be capable of navigating uncertainty (CIO.com)
Another important characteristic of a digital transformation leader is the ability to cope when things do not go as planned. Successful CIOs are eager to embark on digital journeys with uncertain outcomes and are willing to accept ambiguity. Jason Pyle, managing director of IT recruitment firm Harvey Nash USA, says:

"It can often be uncomfortable for their management competencies, but successful CIOs can be both Jekyll and Hyde, promoting experimentation and agility, [while] making sure there is a risk management framework in place".

Have the ability to build relationships (CIO.com)
During the implementation of the global CRM system, Arthur Hu, senior vice president, and global director of IT discovered that relationship building is critical. At the end of the day, he says, it's critical to know who the stakeholders are who will benefit from the implementation. He also emphasizes the importance of relationships in transformation. Arthur Hu admitted that they needed to invest more time and have more business participation to get their prospects. Building relationships, he says, is a good muscle skill to use. Connecting with the business is also important for David Behen, vice president and CIO of La-Z-Boy, as his company undergoes digital transformation.
"The ability to understand the business partners' needs and collaborate with them on business processes and technology solutions has defined our success", Behen says.
Have excellent communication (CIO.com)
Overseeing Raytheon Intelligence and Space's digital transformation has helped Wallis Laughrey, vice president of strategy and chief transformation officer, improve his communication and collaboration skills.
"Being able to clearly communicate our goals and tactics and explain how every single employee plays a role in our digital transformation … is helping establish a solid digital mindset and language to drive understanding, collaboration, and ownership", Laughrey says.
According to CISR's Woerner, the ability to negotiate with internal and external partners is a critical component of communication. CIOs must also be capable of motivating others.

Create compelling storytelling (CIO.com)
While CIOs are "fanatical about creating technology that makes a measurable difference to the bottom line", they understand that they can only gain board influence if they speak the board's language, according to Pyle.
Hu from Lenovo says he admires and is "endlessly fascinated" by people who can "weave a compelling narrative". According to him, this is a crucial skill because it sets the tone, energizes an audience, and excites stakeholders and customers.
"Storytelling elements are undervalued, but the reality is that great work does not always speak for itself. If you can combine it with a great story with a great hook", he says.
Have a Clear Purpose (Forbes)
Humans are naturally resistant to change, and logic isn't a powerful enough motivator. To be able to make changes in any aspect of our lives, we must have a sense of purpose. Leaders who can answer the question "why" are more likely to move their companies forward. You don't introduce new technology just to show off. You use technology to stay competitive, make your workforce more productive, and encourage innovation.

Fix What's Broken (Forbes)
What happens when something works but falls short of its full potential? Many businesses have systems that appear to work on the surface, but when you dig a little deeper, you find that there are issues. Agile leaders look for the root cause of a problem rather than just fixing it. During the digital transformation, difficult conversations will have to be had. As a leader, you must discuss issues with your team, make difficult decisions, and motivate your team to collaborate.
When new technology is introduced, anything can go wrong. Concerns should be addressed through open communication. This is the first step toward being open and honest about what is preventing you from moving forward.
The Summary
CIOs need to rethink their role as digital leaders because of disruption in the workplace and constant changes in business, operational, and IT delivery models. Moreover, digital transformation necessitates that technology leaders reinvent their approach rather than simply respond to business requirements. It's indeed digitally mature companies that are led by people who can shift from being in the spotlight to laying the groundwork for the organization's success.
Sources:
https://hbswk.hbs.edu/item/six-unexpected-traits-leaders-need-in-the-digital-era
https://www.forbes.com/sites/danielnewman/2018/06/14/5-leadership-traits-required-for-digital-transformation-success/?sh=59125be47595
https://www.cio.com/article/189078/skills-of-successful-digital-leaders.html
https://www.gartner.com/en/articles/top-five-characteristics-of-successful-digital-transformation-leaders
https://www.mckinsey.com/capabilities/people-and-organizational-performance/our-insights/unlocking-success-in-digital-transformations