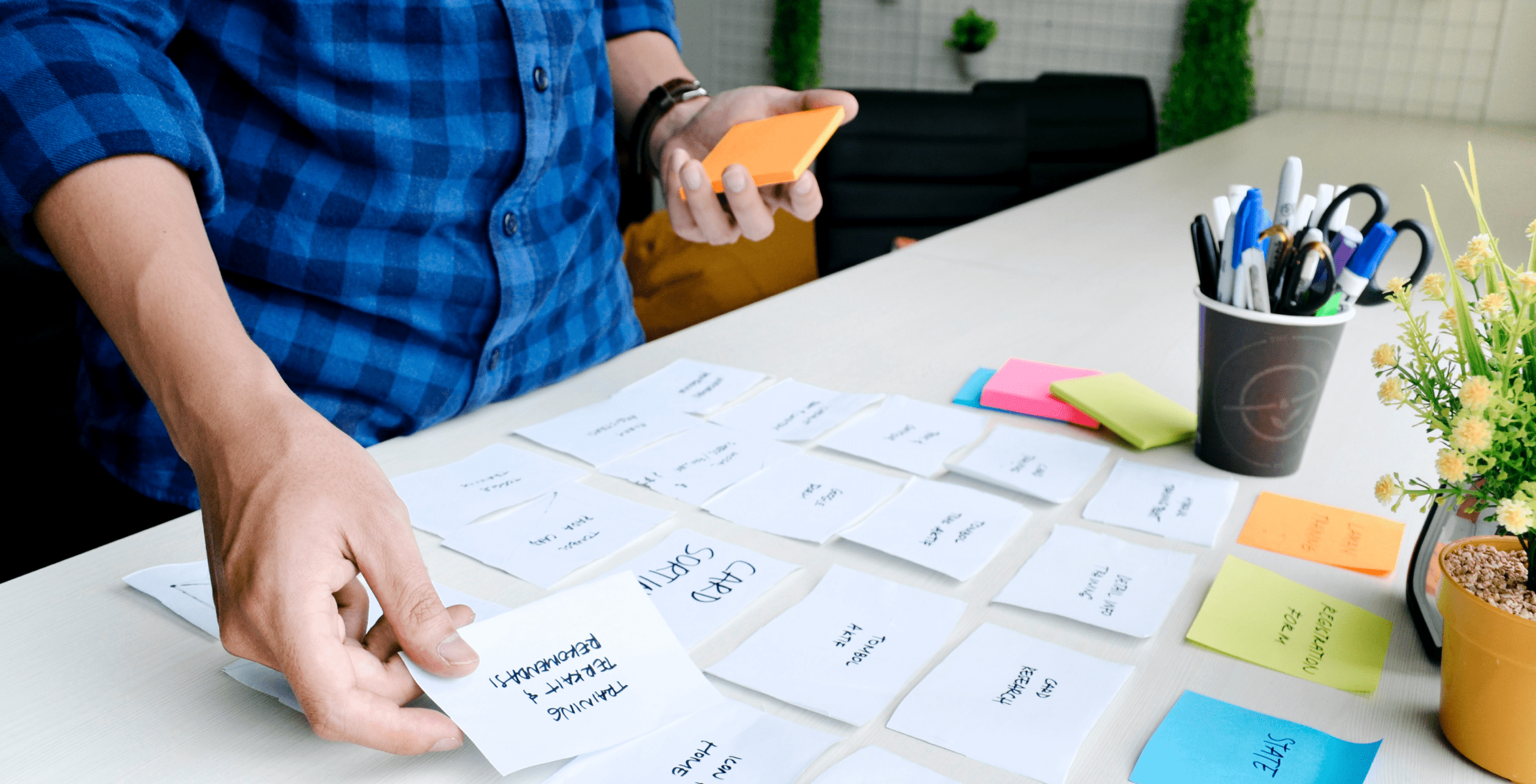 There are multiple tools that companies can use in the production process. Do you know what a product roadmap is? It can be extremely useful and help you answer questions like: what should your product be like and what problems would it solve. Read our article to learn what the roadmap is and what the popular types of roadmaps are.
The idea always comes first. Then you try to define what your product should be like exactly and what challenges you could face in the development process. At this stage, you should learn what a product roadmap is and how it can help you with making your vision a reality. We are happy to explain the key elements of a good product roadmap, the types of roadmaps you can leverage, and why you should prepare one if you are planning to build a new solution for your customers.
What is the product roadmap?
A product roadmap can be defined as a complex, multi-level summary that presents the vision for your product and its future on the market. From such a document we can learn a lot about the product (what it is, what is its purpose etc.) as well as the strategy for its development and release. Shortly, it is a general guide map that enables the company to execute the product strategy efficiently.
What is a product development roadmap – key elements
You are surely wondering what a product roadmap should include. There are some crucial elements that every roadmap should have. Those are:
general vision of the product
product development strategy
product requirements
methods of measuring progress and project success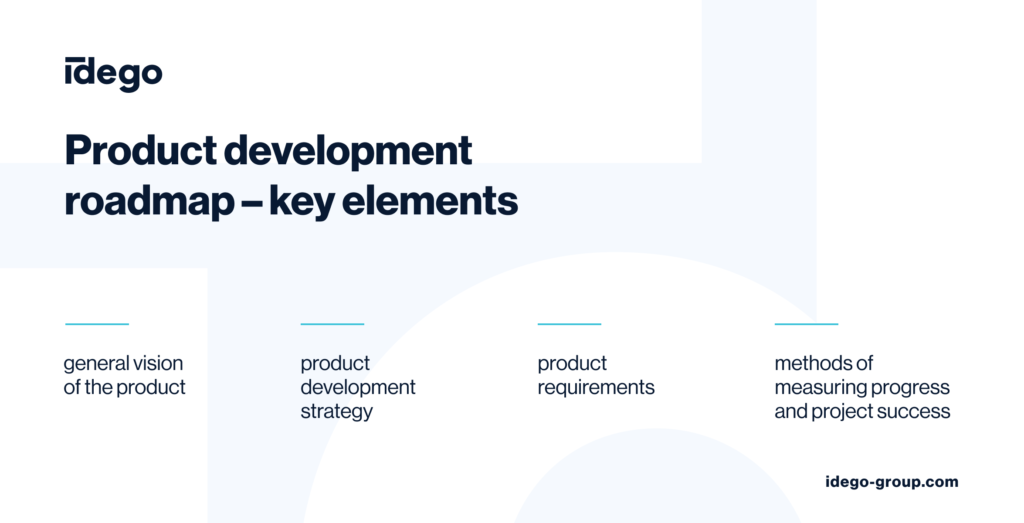 Types of roadmaps in product management
Before you sit down with your team and start to build a product roadmap, you should consider what type of product roadmap you would like to create. Each roadmap has its specific purpose. There are three common types of product roadmaps.
Status-oriented product roadmap
As the name of this type of roadmap implies, a status-oriented roadmap allows everyone in the company to understand what is currently going on and what the project team is working on at the moment. It is a simple, yet very useful type of roadmap that presents the project status at a given time shows what the next steps to take are and what should be done later at the further stages of project implementation.
Using such a product roadmap significantly improves prioritization and awareness of the project. It should consist of three pillars:
now – that represents whatever the team is focused on currently and what will be done on the project in the very near future,
next – the list of tasks and problems that the team should be working on for the next few weeks,
later – this section can be defined loosely, as many things can change during the previous stages.
Theme-oriented product roadmap
This type of product roadmap allows you to describe the value that will be provided to the users, without telling exactly what will be delivered (a product/a functionality, etc.) by the project team. Why would you prepare such a roadmap? It is mostly used by stakeholders and managers to communicate the vision and direction for the product without going into too many details.
The theme-oriented product roadmaps help the project team focus on the larger (often more general) challenges related to creating a new product or functionality.
Outcome-oriented product roadmap
Sometimes, it is important to focus on the assumed results. This specific kind of roadmap is a powerful communication and planning tool that will help you execute your product strategy according to your vision. The outcome-oriented product roadmap is quite similar to a theme-oriented approach. When creating it, you and your team have to agree on some particular outcomes you expect after completing certain work.
Such an approach allows you to keep focused on one goal at a time and track your progress easily at each stage of project implementation. Leveraging this roadmap also positively affects communication between the team and the stakeholders.
What is the purpose of a product roadmap?
Product roadmaps have several goals. Here are the most important of them:
Describing the product vision – it is not always easy to explain to your business partners what you have in mind. A product roadmap is not only a document. It is a business tool that enables you to present your ideas clearly to people you cooperate with.
Promoting the vision among stakeholders – a good roadmap exposes features, strong sides, but also mentions potential weak sides of your product to stimulate discussion and improve the original vision. A properly prepared roadmap will help you convince other stakeholders to support your ideas.
Explaining the product strategy – a product strategy is an important document. A product roadmap not only contains the details of the product strategy but also provides advice on how to execute this strategy and measure the achievements of the project.
The product roadmap improves communication with third parties, customers, and stakeholders by providing a good deal of useful information, advice, and business tools. Preparing a detailed roadmap before starting the project considerably simplifies work on a new product.
What does a product roadmap look like?
It depends — that is unfortunately one of the most common answers in the world of digital product development. The best, most useful roadmaps are the result of hours of careful analyses, considerations, and discussions. A roadmap should contain the key elements we mentioned earlier, such as strategies, goals, features, metrics, etc., but the final shape of your roadmap depends on the type of roadmap you choose to create. There are many roadmap frameworks available to use. You may find them useful if you have never prepared a roadmap for a project before.
A word of advice, keep your roadmap simple, specific, and clear, so it is easy to understand for anybody. As a business tool, your product roadmap needs to have some value to you, your team, and your stakeholders.
Read also: Guide on how to deliver 100% sprint
Practical tips for roadmap creators – what is a good product roadmap and how to create one?
So, start with answering the question: "what shouldn't be in the product roadmap?". There are some things that you may find tempting to include in your product roadmap, even though they shouldn't be there. These are:
Timeline – a product roadmap is supposed to contain a vision, the strategic direction for the product, and some general ideas regarding implementation dates, but more like "first quarter of the year" rather than "15 January 2021 at midnight". You make a roadmap, not a specific schedule. 
Non-value items – it may be sometimes difficult to establish which are those '"non-value" items. For example, if you are creating a more general outcome-oriented product roadmap, you don't have to describe in detail how the bugs should be fixed.
So what are the best practices in preparing a product roadmap? The most important thing is to focus on what type of product roadmap you have chosen to create a truly useful one. There are of course some general principles that can be applied to any product roadmap:
analyze your organization, its needs, and product goals,
discuss your goals and expectations with your team,
together with your team, prepare a draft of a roadmap and allow brainstorming to assess and improve the roadmap.
After creating high quality, useful product roadmap, all that is left to do is to present your vision with confidence to your stakeholders. Do you have any questions? Don't hesitate to contact us.