UX design for web applications: TOP 5 best practices
Which elements of UX design in the web application would you define as most important? What is the difference between a functional and a successful web app? These are only some of the questions that you should ask yourself before you start the development of your application.
CEach web application has some goal (or goals) — selling products, entertaining or teaching users, etc. Making the web app functional (capable of completing some tasks) is one thing, but ensuring that users have fun while using it is not easy. That is why we would like to tell you more about UX design for web apps. After reading this article, you should be able to discuss different UX solutions with your next web application creators.
What is UX design for applications?
The user experience (UX) is the overall, subjective experience of the user while using a web application. This includes, of course, both bad and good feelings about the app and its functionalities. Users see the application as a whole — they don't divide it into the backend, frontend, content, interactive elements, etc. It is very important to make sure that the entire web application evokes positive feelings.
The UX design is the process of designing a digital product, so its final users feel satisfied by using it. The web app has to be intuitive, easy-to-use, and allow your clients to achieve their goals without much effort. The UX designers analyze the current best practices in UX design (there is much more to the process than creating a pretty and interactive UI) and consider how to combine content, sound, graphical elements, navigation buttons, and more. They are working on making the web application fee natural to use for the end-users and providing a meaningful experience to them.
Role of UX designer — app development process
For some reason, abbreviations UI (user interface) and UX (user experience) are often used as synonyms. They have different meanings, even though they are closely related. It should be pointed out that UI design is an important aspect of UX design, alongside the usability of the web application. Web app UX designers participate in the process of creating the app as we (users) see it. They do not provide graphical elements for the application (this is a job for graphic designers). UX designers need to understand the customers, their needs and expectations, analyze potential problems, come up with solutions and produce site maps, wireframes, or prototypes. Their job is to plan how users will navigate through the web app, what kind of animations to use, and make the product fully functional, aesthetic, and engaging.
How to ensure the best UX design — best practices
There is no ready-to-use recipe for UX design. There are many minimalist web applications and others that are full of colors, animations, and various components — any type of web app can become successful if it is carefully designed by talented professionals. The number one task of the UX designer is to closely monitor the market, analyze solutions leveraged by application development companies and listen to the customer.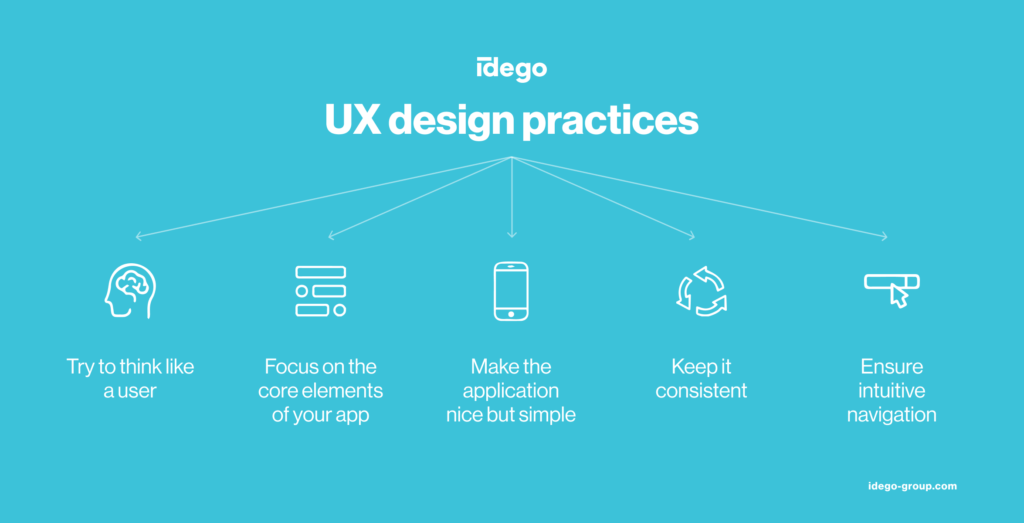 1. Try to think like a user
As you are planning to produce a web application, it is normal that you have your vision of it. You need to remember, however, that the world is moving and you may not always be aware of the new UX best practices and interesting approaches to solving some users' problems. Insisting on old-fashioned solutions is not always the best idea. When UX designers suggest some changes to your vision of the web application, try to think like a potential user of your application. What are their needs and expectations? How can you help them achieve their goals fast? What challenges can they encounter while using your application? Our web app UX designers will always explain to you why they think that the approach they propose is best for your particular situation.
2. Focus on the core elements of your app
First things first. It is quite easy to be swept up in the emotional fervor while imagining all the amazing animations and effects that you would like to surprise our end-users with. Yet, you have to think about the main reason why people use web applications. Focus on making your digital product easy to use first. If you are building an e-learning application, ensure that your users will not have any problems with finding new lessons in the application, if it is a shopping app – design an intuitive path from the product page to completing a transaction. Each app feature has its purpose and within the web app UX design process we should make sure that the web application easily serves its main purpose. 
3. Make the application nice but simple
Original graphics, animations, interactive elements, and some unusual custom UX solutions can impress the users, but it is not always the best idea to create a complex UX design for a web app. Many people treat applications as practical tools to make their lives easier. Ask yourself who you build your web application for and why. Vibrant colors and animations will make an entertainment app more attractive, but in the case of a business app or shopping platform, a lot of distracting elements can make it harder for the users to benefit from the core functionalities of the app. Each UX element in your app should be put there for a reason. Take all the time you need to consider how your web application should look like.
4. Keep it consistent
Your brand is present in many communication channels on the internet. You have your website, social media business profiles, and now it is time for a web application (and maybe also a mobile app in the future). Remember to ensure brand consistency. Users should think of your company the moment they start to use your application. Get appropriate graphical designs, create the right content to be sure your digital product corresponds with your brand image.
5. Ensure intuitive navigation
Well-designed navigation in your web application will make users move deeper and deeper into your app without even knowing it. Probably one of the worst things to do is to create dead ends. It is quite common on websites — some have pages that simply end the journey of the user, as they have no buttons to click or forms to fill — nothing to engage the user, only content.
To create natural paths to follow for web application (or website) users, UX designers have to analyze how users are moving through the product. It takes a lot of time to learn how people think and use apps and websites, that is why there are still so many non-intuitive web applications and websites on the Internet. Trust us, designing intuitive navigation for your web app is crucial for its success.
Read also: UX vs. UI: Biggest Differences Between UI and UX Design
High-quality UX application design requires extensive analyses and testing
Creating web app UX design is just the beginning. All developers and designers depend on their knowledge and experience when choosing the best solutions within the app development process, but still… the market is constantly changing – new standards and new approaches to UX design are being invented. Even the way users think changes. That's why we always test applications we have designed and built, analyze the test results and improve our digital products.
Develop with the best — contact us, and we will help you create a remarkable web application.