Digital transformation in business – why do you need this for your company?
How can you make your company more efficient, reduce costs and improve the quality of your customer service? Have you ever heard about digital transformation in business? Move from paper documentation to digital systems, adopt new technologies and optimize your business processes to modernize your organization. You can increase profits and make everyday work easier. Read, to learn more. 
How do you understand the term "digital transformation in business"? Some think that transforming your company is only about replacing paper documents with digital files or switching to the newer business software. Those are only some stages you need to go through to complete the transformation of your business, but there is much more to "digital transformation" than simply adopting one or two new solutions. You need to change the way you think about running your company, solving problems, and making decisions. 
Digital transformation in business – what do you need to know?
The most important thing to understand is that digital transformation will look different in every company. The whole process consists of many stages – like integrating many kinds of digital technology in all areas of the business, significantly changing how the company operates and provides value to its customers. Digital transformation also forces organizations to make changes in their business culture. Therefore, the modernization of your company must go beyond the simple adoption of the new technologies. Don't worry. Having access to the best software and business tools will give you more flexibility than you ever anticipated, prepare you to think expansively, and gain the competitive advantage you need to outrun other organizations in your industry.
The digital transformation of business – why is it essential for success?
The digital transformation in business could be nowadays called a necessity – a matter of survival. Why is that? There will always be companies that stay behind and refuse to modernize. Statistics show, however, that more and more companies go through digital transformation. According to a Statista report, in 2020 worldwide spending on digital transformation reached 1.3 trillion U.S. dollars, growing 10.4 percent year-on-year, regardless of the economic recession caused by the COVID-19 pandemic. It seems that frequent lockdowns sped up digital transformation in many companies – they needed to change, otherwise, they wouldn't be able to operate efficiently. Digital transformation may be the only option for those companies that want to preserve their competitive advantage.
Digital business transformation strategy
Before you start adopting new technologies and changing your internal processes, you might have to think of the best strategy to do it. While you transform and modernize work in all your departments, your company still has to operate on a day-to-day basis. For some organizations, digital transformation can take even some years. It depends on the complexity of your company.
How to perform a digital transformation in a small business?
Surely it seems easier to transform a small company than a mature enterprise. It usually uses fewer business programs than a huge organization, hires fewer employees, and has lesser costs. You are right in some ways, but… Transforming small companies can also be challenging. Small businesses have limited budgets and are even less used to leveraging modern solutions than an enterprise.
See also: Where it's time to scale your business?
Here is some advice for small companies that want to go through digital transformation:
Create a complete project of your digital transformation – it would be wise to ask for professional support. Small companies rarely have their own IT departments, and even if they hire some IT experts, it is unlikely that there is a digital transformation specialist among them. To build a good digital transformation business model, you will need professional help.
Include all company's departments in modernization – to change the culture in your entire company, you need to enable all your employees to work smarter. You won't be able to do it if you provide some teams with new procedures and tools, but ignore the needs of others. It doesn't matter if the sales team consists of 20 members and there are only two people in marketing. Think about them all.
Make your company data-driven on every level – the time of drawing up reports in Excel is long gone – digital transformation and business analytics are closely related. After transforming your company, you'll be able to collect business data, ensure data quality and analyze it efficiently. Make sure your employees understand that and learn how to make smarter business decisions based on reports.
Don't get greedy – there are many programs and business tools that could make your day-to-day work easier. Some features of the software are simply so cool that we want it, even if we won't use it that much. Plan your digital transformation carefully to use your budget wisely.
How to plan a digital transformation for medium companies and enterprises?
The digital transformation of a big company is not easy. Of course, your budget is much larger than in the case of small companies, and you can adopt many new technologies, but – as we mentioned earlier – it is not all about the technology. You need to change the way your departments and employees think and work. This change won't happen overnight. Here are some tips that will help you create the digital transformation strategy for your business:
Research digital transformation carefully – the whole idea to transform your business sounds great, but what exactly do you want to change? There are many technologies, systems, and tools that can be used to modernize your company. Of course, teams that take care of digital transformation in business will suggest some solutions, but it would be good for you to know what you want to change.
Collaborate with senior management and stakeholders – the company is a community. Do you know which departments suffer because of the lack of the proper tools? Are you aware of the most attractive investment opportunities on the market? Both groups, senior managers and stakeholders, can add value to the digital transformation strategy you are trying to build. Let them help you.
Choose to adopt technologies that align with your business plans – when investing in new technologies, there is often a temptation to get more than necessary. It is not always a bad idea but first thinks about solutions that will help you achieve your most important business goals.
Plan methods for validating progress and testing – you need tools to control your digital transformation process. Develop methods and procedures for assessing progress, before you start the transformation. It is also good to have an emergency plan in case something goes wrong.
Train your employees and give them time to adjust – teach your employees how to work smarter and show them new, available tools.
See also: TOP 5 challenges in digital transformation
Digital business transformation areas
Different experts define different areas of digital transformation. We advise you to take your time to read more articles on digital transformation and modern technologies worth adopting (check other posts on our blog). While planning a digital transformation, you should think about:
Technological transformation – adopting new software and business tools is a very significant part of digital transformation.
Process transformation – new tools allow you to improve the efficiency of processes in your company. Check how the best companies approach their projects and collaborate, and adopt some of the best practices in your organization.
Culture transformation – the people – your employees – are a very important asset in your company. Digital transformation should change how they feel about your company, industry, and work. Improve their engagement and make them more productive and motivated.
Customer experience – digital transformation should not only be noticed within your company but also on the outside. If your customers become aware of the positive changes and their experiences improve, it means that your digital transformation has been successful.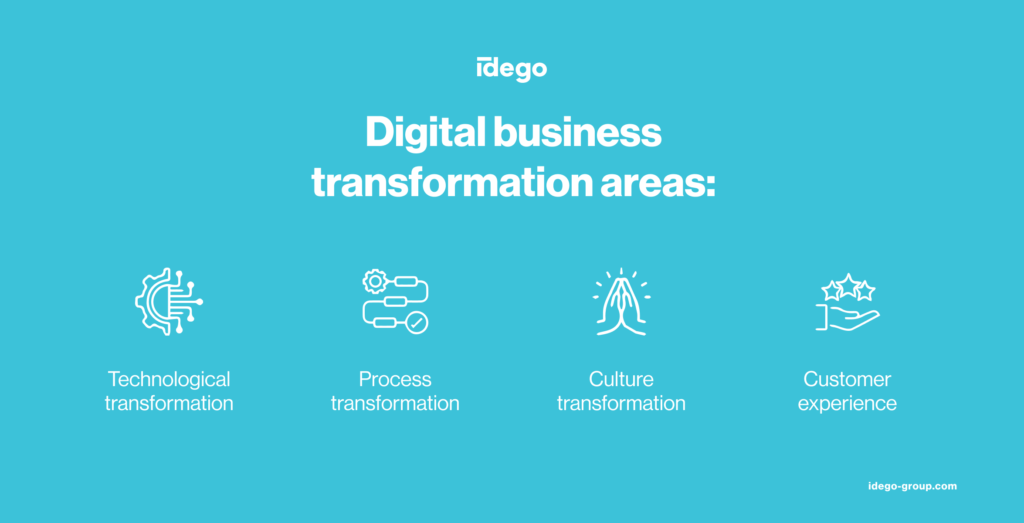 Stages of digital transformation — modernization of business processes
So what are the steps to follow to perform a successful digital transformation of a business?
Identify your problems and challenges.
Research digital transformation.
Analyze your budget and other resources.
Choose the technologies you want to adopt and processes you want to change.
Create a digital transformation strategy and develop a method of validating the progress.
We can boast of considerable experience in assisting companies through the digital transformation process. Contact us, if you feel like you need guidance from experienced IT professionals.