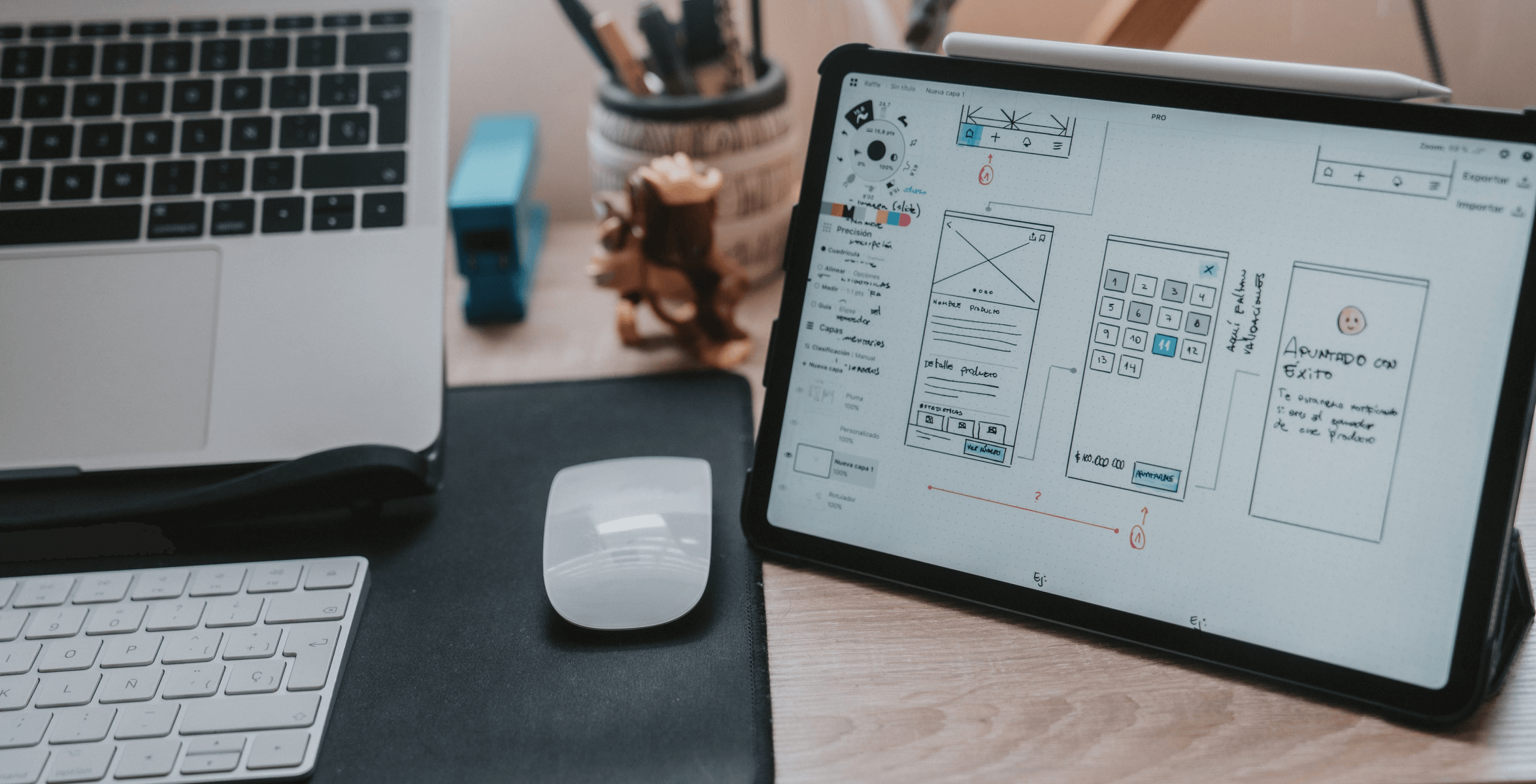 Designing the best user experience (UX) for an application is not an easy task. Experienced teams of designers have to analyze your ideas for an application and potential users' needs. Even at this stage, there are already some tests performed to evaluate what UX solutions would suit a particular application best. Learn more about UX design trends for 2022 and choose the best for your upcoming digital product.
Quite many interesting UX design trends emerged in 2021. Some of the solutions that gained huge popularity early this year should remain relevant and interesting for quite a while longer. Developing high quality, functional, and user-friendly applications are not easy, that is why you should keep your eyes open and look for the inspirations for your new app. With the right UX practices and engaging features, you can give your application a unique character and ensure its success.
UX design — what is it and why is it important?
In short, UX stands for the overall user experience that comes from interacting with the digital product (such as a web or mobile application). UX design is the process of creating a product that is not only functional but also user-friendly and engaging.
There are many applications on the market that answer the same needs ascan customers. But why are some very popular, while others are used only by a few people or no one at all? Users prefer solutions that ensure exceptional user experience. UX design can influence your app's success or lead to the failure of your investment.
10 interesting UX design trends still worth considering
There have been numerous UX design solutions that caught our eye in 2021. We have decided to list 10 of them that we find most inspiring and important for application development and still worth considering in 2022.
1. Interactive elements and animations
To be honest, the minimalistic approach is a bit out of date in today's application development market. It is applied rather by micro-and small companies, whose goal is to create a simple and elegant channel for communication with their customers at a low cost. Developing an application is a complex project – the main goal is not to provide the user with information, but to engage them in some virtual activity. Astonishing, unique animations and interactive elements are quite an effective tool to focus the user's attention on the application. You need the best UI, UX, and graphic designers to achieve this goal.
2. Unique mobile experience
Now, developing a mobile application is not always a necessity. For example, a Progressive Web Application can work quite well on mobile devices. You have to remember, however, that it will not offer your clients such flawless user experience as mobile applications developed especially for a certain operating system (iOS or Android). If you want your digital product to be used both on computers and on mobile devices, you need to make sure it will work smoothly on all those platforms.
3. Intriguing navigation solutions
Navigation of your application should be interesting, but also intuitive. It is not an effect that is easy to achieve, however. Custom user experience usually translates into a greater number of users. By intriguing your customers with unique navigation solutions, you are likely to keep them exploring your application for long enough, so they could discover useful and fun features of your product. You have only one chance to make a good first impression, so use all the creativity you have while designing your app navigation.
4. Full-screen media presentation
This solution has as many enemies as fans, but it is certainly worth considering. Having your media (video, graphics mini-game, etc.) in the center of the screen is an obvious solution, as it is the place where your eyes naturally land while scrolling the application. Important content should always attract the user's attention with its size and placement. Although, in theory, having a particular media presented in full-screen mode disturbs scrolling the application, it may also have some benefits. All you have to do is to respect the user's time: nobody likes full-screen pop-ups all the time, but introducing some crucial information (for example about discounts) or inspiring video can work miracles for your brand's image and encourage users to explore your app even further. Just remember to leave them a choice by adding a visible button allowing them to close the full-screen display.
5. Data visualizations
Customers like numbers. Present your company's digital product functionality or the benefits of using your application in numbers or diagrams. In short, leveraging any data that can convince potential customers to pay for your application is a good idea, but simply writing down the statistics is not a sufficiently creative approach. Visualizing data in the form of charts, columns, and tables is a new UX design trend. Try to make them interactive to engage users even more in interacting with your application.
6. 3D models
3D models in UX design are another trend you should consider. Such a model is another thing that your users could play with while using your application. It is also a small step in the direction of virtual and augmented reality, which is one of the hottest UX trends nowadays, especially in the game industry and e-commerce. With 3D models, you provide your users with an experience similar to real-life interaction with the product. The customer can spin it and turn to see it from all sides, you may even add animations as a reaction to the customer clicking on the buttons on the product if there are any.
7. Virtual and augmented reality
You can also leverage the hottest trend in UX design, namely virtual and augmented reality. Those are the most advanced solutions that enable entrepreneurs to provide their customers with an almost real-life user experience. As VR allows you to move and explore in the virtual world, AR is a kind of combination of the real world and the virtual one. VR is mostly used in the game industry. AR, however, is much more versatile – you may scan an actual room in your house and then design it with the furniture from an online shop application and order all products used in the design with one click.
8. Live chats and chatbots
Efficient communication with customers is crucial in all industries. Research shows that modern clients prefer to solve their shopping problems on their own, without contacting a call center if it is not necessary. We would probably all agree that contacting a call center is the last thing we ever want to do as you are usually asked to "hold the line" and it takes so much time… With an online chat, your customer service assistants are able to serve more clients. Also, developing a custom, advanced chatbot, leveraging artificial intelligence, could prove a perfect solution for your company, as it would allow most of your customers' problems to be solved in no time and thus considerably increase your profits.
9. Gamification
The need for reward is strongly entrenched in human nature. The reward does not even have to be of a big value to motivate the users to visit your application regularly. You can design the application that will grant your users a point that they can later exchange for additional features or access to limited content. Use it to improve your application UX and engage users more – it works great for many modern applications.
10. Storytelling
Last, but not least — storytelling is one of the most significant methods to make a customer interested in your brand and your product. This term refers to the communication between customers and the company based on strong emotions and imagination. Make sure that your content sends the right message and is consistent with the rest of the UX design of your application.
Designing UX for your application
Designing the best UX for the application is not easy. Every application that is introduced onto the market is a result of the work of many people over many months. There are graphic designers, UI and UX designers, developers who move designs to the virtual world, and finally the customers who cooperate with our experts on each stage of development by testing the app and sharing ideas as well as providing feedback regarding their experiences. 
We can help you build an application that will steal your customers' hearts. Contact us, to learn more about current UX design trends and the application development processes.