9 grudzień 2021

Idego – główny partner konferencji
Pytech Summit to konferencja online zrzeszająca programistów, głównie o profilach mid i senior. Podczas konferencji można odwiedzić nasze stoisko, porozmawiać z rekruterkami i dowiedzieć się więcej o pracy w Idego. Każdy zainteresowany będzie mógł również spotkać się z naszymi prelegentami, już po ich wystąpieniach w dedykowanych pokojach online.
Agenda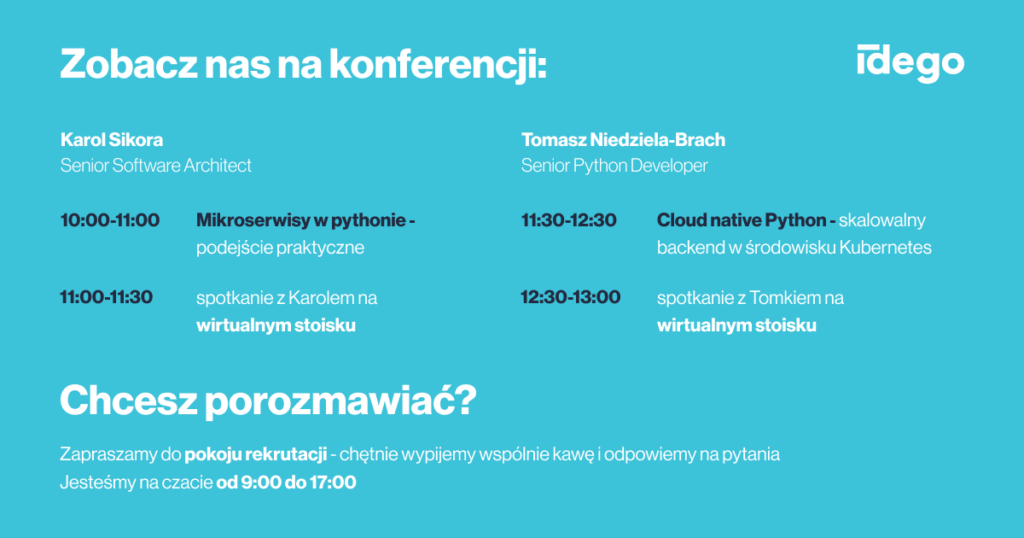 Mikroserwisy w Pythonie – podejście praktyczne
W prezentacji skupimy się na najważniejszych obszarach, które musimy zaadresować podczas tworzenia mikroserwisów, narzędziach dostępnych w pythonie (i nie tylko), które mogą pomóc nam w tworzeniu działających rozwiązań. Zaadresujemy temat modelowania danych, spójności komunikacji pomiędzy serwisami i sposobami osiągnięcia testowalności tego obszaru, modelowania komunikacji w sposób synchroniczny i asynchroniczny oraz warstwą persystencji danych. Wszystko na bazie doświadczenia w budowie i utrzymaniu systemów mikroserwisowych w kilku firmach na przestrzeni ponad 5 lat.
Cloud native Python – skalowalny backend w środowisku Kubernetes
Podczas wystąpienia poruszę temat "deploymentu" rozproszonego systemu napisanego w języku Python na środowisku chmurowym. Omówię zalety takiego rozwiązaniam, jak na przykład uniezależnienie aplikacji od konkretnego dostawcy chmury, oraz pokażę o co należy zadbać podczas skalowania horyzontalnego. Wszystko to na przykładach z rzeczywistego rozwiązania, które zaprojektowałem dla jednego z klientów, gdzie zadaniem systemu było przetwarzanie dużej ilości danych w bardzo krótkim czasie.
Nasi Prelegenci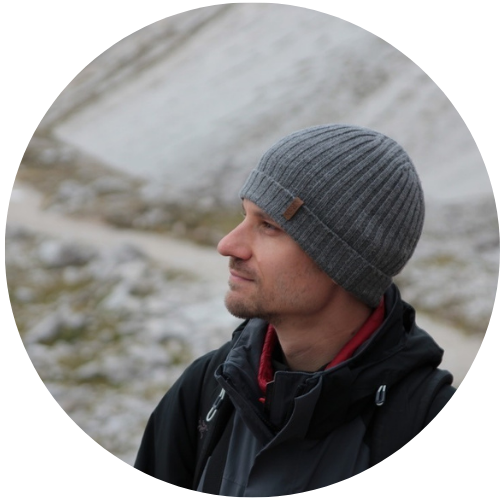 Karol Sikora
Kilkanaście lat z programowaniem, od assemblera po języki funkcyjne, z Pythonem zawodowo najdłużej, w szczególności z zainteresowaniem obserwuję zmiany z ostatnich lat związane z możliwościami jakie daje typowanie i programowanie asynchroniczne.
---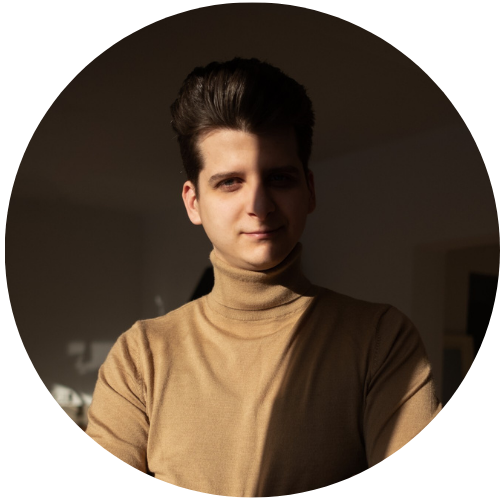 Tomasz Niedziela – Brach
Tworzę i rozwijam systemy informatyczne od 2014 roku. Od samego początku swojej kariery jestem związany z chmurą obliczeniową i Pythonem.Wierzę, że da się zbudować most pomiędzy technologiami open source, a popularnymi dostawcami chmury.
Pokój rekrutacji
W trakcie wydarzenia zapraszamy do otwartego pokoju rekrutacji. Dziewczyny z działu HR chętnie odpowiedzą na wszystkie pytania. Będzie okazja do poznania nas bliżej i wypicia wspólnie kawy.