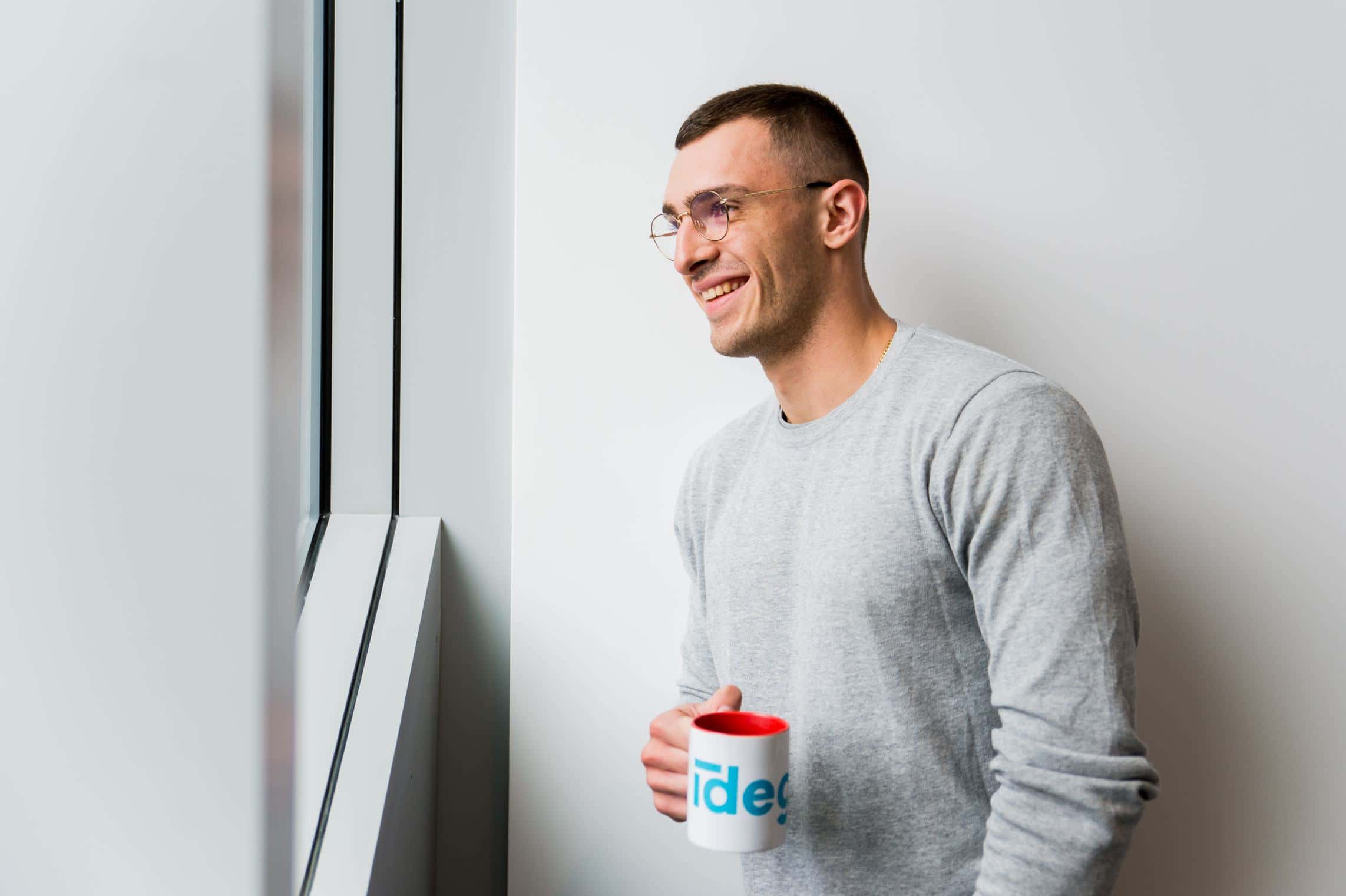 This is the story of how one of the youngest employees of our software house appeared. Oskar Pawlicki came to Idego in mid-September last year and became a salesman!
He took the position of sales support assistant and started working at Idego. Oskar was one of the first employees in Gdynia, who took a different position to programmers. Earlier, Piotr and Krzysztof dealt with Idego sales, now Oskar joined to the sales department.
It sounds like crossing the straight road. From point A (Słupsk, the home city of Oskar) to B (Gdynia, headquarters of Idego) but it wasn't that easy.
This road was not easy
Before completing his BA, the first step that Oskar undertook before starting his strictly professional career was obvious. He created a conference about a healthy lifestyle. He was the moderator of the discussion, a pair of well-known Polish bodybuilders answered the questions asked by the audience.
The conference was created on this subject. It happened because Oskar from an early age was fascinated by the cult of the body, dietetics and weightlifting. It helped him out in college. He met many people associated with the sports industry and the university itself.
Program on television and the European Parliament
In the period between the creation of the conference and studying. Oskar, together with his student friend, opened his own program on local television. The program was called "Two on One" and was a series of interviews conducted with famous people associated with Słupsk.

The program enjoyed a lot of viewership, taking into account that each episode reached approximately 70,000 views.

After a very busy second year of study, the time came for the third and final year of the BA. During which Oskar went to a two-month internship in Brussels to the European Parliament. It was a real adventure for him! During that time he could start learning French, meet a lot of people from all over Europe and see how the European Union works from the inside.
And how it affects the everyday life of Europeans!

Idego's salesman on board!
After completing his studies, Oskar did not hesitate to look for a job and chose the best possible direction – Tri-City!
The choice of the industry was quite obvious, the IT industry is today one of the leading industries that is growing at a very fast pace.

Oskar found Idego on a Tri-City portal with job advertisements. Without thinking too long, he sent his English-language CV and hoped for a reply by email.

And so it happened!
Maja invited Oskar to the first recruitment interview in Gdynia. The phone conversation went very smoothly. Maja discussed all the basic issues so as to dispel all doubts before the interview.

The conversation, which took place a few days after Maja's phone, lasted about 40 minutes and outlined the general course of possible cooperation. Oskar learned what he was supposed to do in the company when he could start working, a salary. The conversation took place in a very pleasant atmosphere, there was no place for stress.

The next step was a remote test. Oskar had the task of answering three emails in English at a specific time and sending them back.
The subject matter of the news was varied but strongly correlated with the industry and the company itself.

After the first interview with Maja, a remote test, the time has come for the last stage. That is a conversation with CTO or Krzysztof and CEO Piotr.

The owners of Idego asked a few questions, clarified the role of Oskar in the company. And tried to learn as much as possible about the competences, skills and interests so as to have the broadest spectrum of information about the potential employee who would deal with sales support.

This conversation also lasted about 40 minutes.

After establishing and clarifying any doubts on both sides – Idego and Oskar, it was enough to make a decision! Oskar did not have to wait long to close the recruitment for the position: sales support assistant.
Development at work? Set, Go!
It was less than a week when Maja called good news to Oskar – a new Idego's salesman!

Idego went hand in hand because they realized that moving to Gdynia from Slupsk could be quite time-consuming. Oskar began working in Idego in mid-September 2018 and was officially a sales support assistant. His duties initially included simple things, such as creating a customer base, searching for foreign companies or getting to know CRM.

Oskar liked the new job because of the loose approach of the owners, the lack of a specific dress code or rigid working hours. The great advantage was the possibility of working remotely, great location of the office or even Friday lunches.

"A huge dose of trust, autonomy of work and constructive criticism of work allow me to develop here at a very fast pace." – emphasizes Oskar.

Oskar – new salesman quickly became interested in the B2B sales industry. Began to read industry books, meet new people or acquire new strict sales skills. The close contact with the founders of Idego resulted in rapid and intensive development. Piotr and Krzysztof constantly support Oskar and share their valuable knowledge. In addition, Oskar creates video content, takes photos, creates graphics and takes care of a good company image on the internet. So he is not a classic example of a salesman.

"Idego is a company that was supposed to be a friendly place to develop and create the best possible technological solutions. It is great to contribute to the development of this company to a small extent" – that's what Oskar says.

Ideas for the future?
Initially, Oskar was heavily involved in outbound sales activities, but with time when his skills grew. He was also implemented in inbound and company marketing. Today Oskar deals in content marketing and inbound sales, but soon will probably work hybridly in inbound and outbound.

However, if you are interested in working in our company, but as a developer and not a salesman. Click here and see what it's like to be a programmer in Idego!
And yet the brief history of this young salesman described here is only a cross-section of the last 10 months. In what place will Oskar develop in a few years? Who knows?