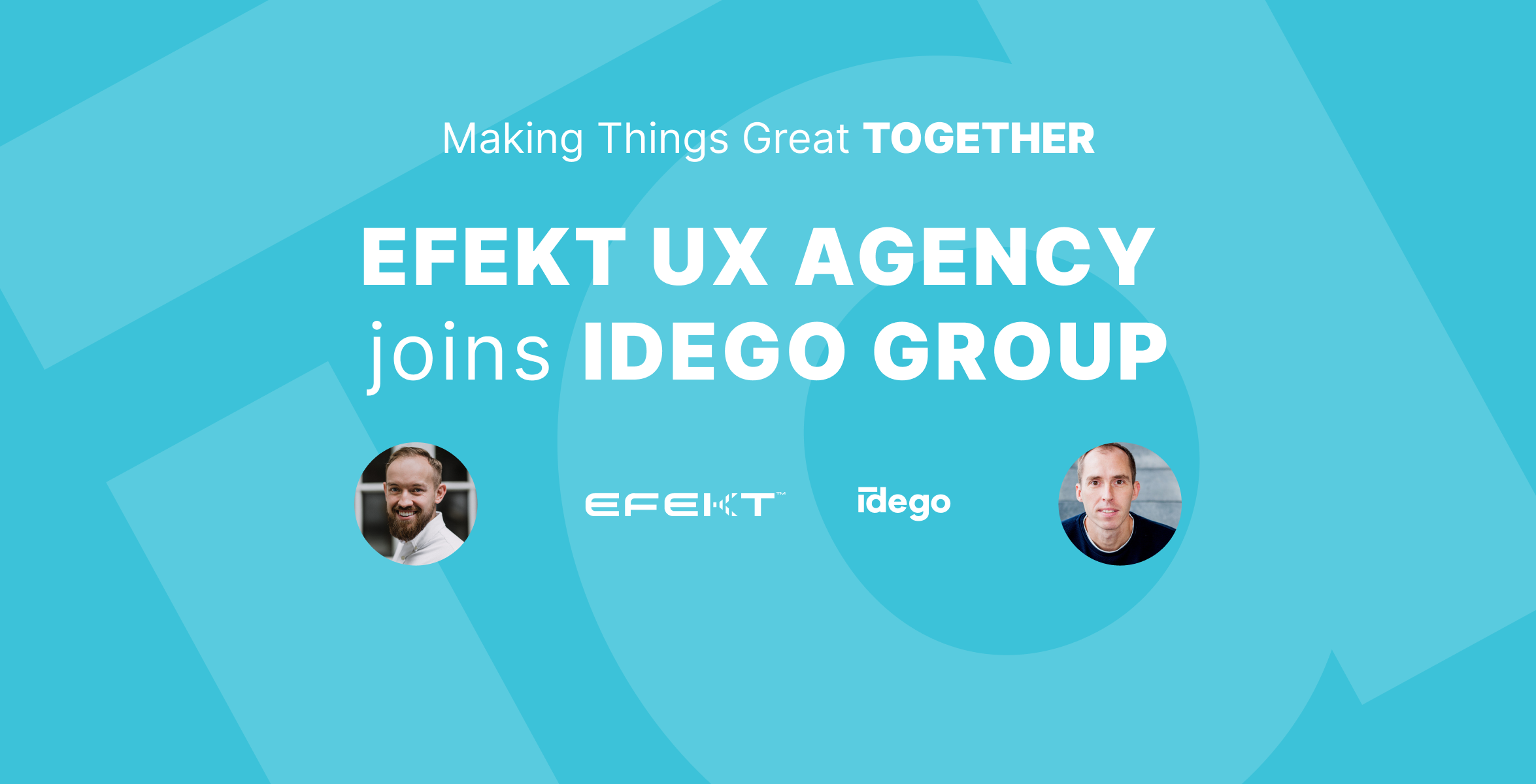 Now it's official!
We are happy to announce the meet up of two forces: polish UI/UX Agency EFEKT decided to become a part of Idego Group. Today, we are talking with Idego's Co-founder – Piotr Groza, and Szymon (co-founder of EFEKT Agency) to look behind the scenes of upcoming collaboration, potential opportunities and prospects.
What was your first collaboration experience?
Piotr: One of the main Idego's objectives – support clients in creating and developing new applications on a day-to-day basis. Our team's expertise allows us to deliver high-quality services and satisfy client's needs by building a new dedicated team or expanding the client's team, supporting them during product development. Our areas of expertise include: Python, Java, React, Angular.
Our professional acquaintance with the EFEKT Agency happened about 3 years ago. For the last 11 years, Idego has been through many IT projects and in one of such projects we needed to be backed by UI/UX support. I have constantly been looking for a contact with someone from the UI/UX world, who would not just deliver "good work", but have similar experience and a desire to resist challenges. That's how I met Szymon.
Szymon: EFEKT Agency is oriented in delivering UI/UX services, including analysis and research, wireframes, prototypes and so many. That's how we had an occasion to work together with Idego Group as a design partner, 3 years ago. Our broad portfolio of UI/UX projects in web and mobile applications, as well as a willingness to share and expand our knowledge, led us to collaboration with Piotr, and finally – Idego.
How did you decide to join the forces and start working as one entity?
Piotr: Here, in Idego, we always seek new capabilities, ways to expand our knowledge, and share it with others. We always tend to offer our clients better solutions, so for that we have no choice but constantly to evolve and search for even more capabilities in other areas. This integration will help us to widen our competences and create projects at a different level. After our collaboration before, I was already aware of the high team professionalism of the EFEKT Agency, which you can estimate by client's testimonials and quality of case studies.
Szymon: I met Piotr a couple of years ago at a conference. After a while, we had the opportunity to empower Idego's project with our product design resources. That first gig turned into working on a couple other IT projects. We felt really comfortable working with Idego, so after that we realized that having such a strong partner can help us accelerate even more. To offer successful product development you need to combine design with the technical part – development itself, that's why working as one entity makes a lot of sense for both of us.
Well, it seems like your joint is based on not only your IT projects collaboration before and mutual expertise, but also you both operate with customers in mind. What values do you expect to bring to the market together?
Piotr: I strongly believe that together with project management of Idego, our technical advantage and in-house advanced UI/UX support, we can satisfy client's demand and deliver more than they expect. From our first common project with EFEKT, I knew that through "together" we can make even more great things and become more technically qualified, complementing each other's capacities. I am sure, Idego will gain even better competencies during the project's development by EFEKT support in product design.
Szymon: I believe that our experience in designing various digital products like mobile and web applications, wearables of interfaces to hardware devices will be useful to provide end-to-end IT solutions. The IT market is moving fast, so you need to ship, iterate and measure all the time. That's why building teams consisting of developers and designers under one roof is crucial for building products that people want.
Thank you for this great talk! We all are looking forward to seeing you both perform new projects and take on exciting challenges – from now on as Idego Group!