Benefits of Artificial Intelligence in banking
The vital role of Artificial Intelligence in banking solutions development is undeniable. Why are ML and AI so important in this industry? Learn more about the current state of AI in banking and the benefits of using AI in banking software development. Check it out, if you are considering the application of AI in your business.

Adopting AI-based solutions enables banks to meet various customers' needs and to stay competitive. Of course, AI development is certainly not an easy process. Apart from a deep understanding of your own business, you will also need a team of experienced data science experts and AI developers to design a solution for your bank and build it. There is a long way from considering adopting AI technology and doing it. First, learn the benefits of using Artificial Intelligence in banking.
Artificial intelligence in banking today — is it important?
Artificial Intelligence is a serious investment that requires not only a considerable budget but also specific infrastructure, skill set among the employees, and maturity. That is precisely why not every bank is ready to adopt AI solutions. According to the Statista report, most businesses in the financial services industry incorporated AI only partially — approximately one-third of respondents stated to have fully incorporated artificial intelligence technologies in their business.
In 2020, the most common AI application in investment banking worldwide was Machine Learning. The second and third most popular AI use cases in this sector were predictive analytics (60%) and virtual assistant technologies (58%). More and more companies invest in virtual assistants that can not only answer customers' questions but also sell banking products.
What are the potential benefits of AI in banking?
AI has multiple applications in banking, hence it positively affects many spheres of the banking business. The main benefits of implementing AI-based solutions are:
Improved control over the business — AI and ML algorithms can be used for advanced analytics. AI analytic tools provide organizations all over the world with very useful analyses and predictions of the market or the potential risks. Thanks to them, you gain more control over your company and make better decisions.


Better customer experience — Artificial Intelligence may also help you understand your customers better, but that is not all… This technology allows you to reduce (or even eliminate) potential errors during communication with the customer or making changes to their accounts. AI can also be leveraged for providing a more human-like experience when interacting with chatbots or customer applications.


Fast and accurate loan and facility evaluation — before AI, banks were using credit scores to evaluate an individual's or a company's capability to pay back a loan, etc. It was less effective than an AI-powered evaluation process, as it was often relying on outdated or inaccurate information. An AI-based system is considering numerous variables, so it can produce reliable recommendations for your employees before making a final decision on providing a customer with financing. 


High security — the most advanced cybersecurity systems are powered by Artificial Intelligence. Special software will react immediately by protecting data and informing you if suspicious activity in your banking systems is spotted or if any data leak is detected. Ensuring the highest level of security is crucial in the banking industry as you deal with enormous amounts of sensitive data of both customers and employees. AI is also useful in reducing errors in compliance reporting.
So what are specific AI use cases you may find interesting?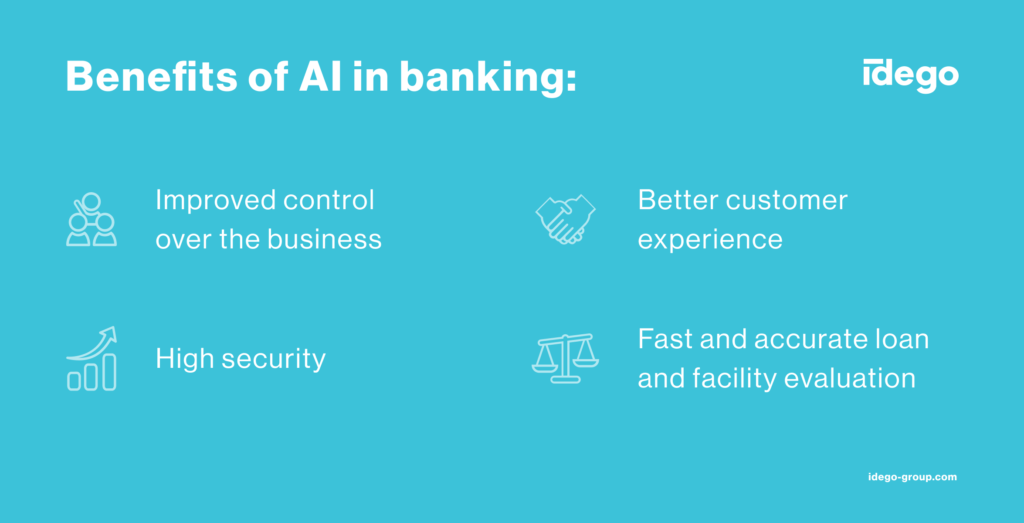 How can you use AI in financial services?
Are you considering investing in AI-powered solutions for banking? Here are some AI applications that can improve the efficiency of your business.
Artificial Intelligence in investment banking
Banks are constantly searching for interesting and potentially lucrative projects to invest in. But which investment opportunity is the right one? The fact is that the decision about investing still lies within the hands of a human – that is why leveraging the most advanced analytic tools is a necessity in the banking industry. The best, AI-powered investment software will provide you with reliable recommendations. It analyses possible risks and returns on investment. The AI-based analysis uses many various variables. With such software, you have better chances to invest in the right project.
Artificial Intelligence in banking and risk management
Making decisions about investments based on AI-based recommendations is one way to handle risks in the banking industry, but there are so many more threats than just miscalculated investments out there. As a person who works in a bank, you surely know that banking and financial companies' success depends heavily on external global factors. Natural disasters, political changes, wars, currency fluctuations — all of these (and more) may have a significant impact on your business.
Of course, there are always bigger and smaller risks in the banking industry. The most obvious one is the customer's solvency. AI software is capable of assessing if there is some probability that a certain client could fail to pay back a loan. Such evaluation may be performed thanks to predictive analytics. Historical data is analyzed to learn past behavioural patterns and produce predictions. AI-driven analytics helps you see through all those threats and plan your reaction.
AI in digital banking and AI banking apps
AI is the kind of technology that can prove useful not only to the bank's employees but also to their customers. Today, customer services representatives still deal with thousands of emails manually, have to answer the customer's calls to solve their actual problems etc. You may be surprised that clients also are not so thrilled with the direct contact. 65% of customers prefer to solve their problems by themselves if the matter is not too complex. Let them do it!
Today, almost all banks have digital products such as websites and mobile applications. With Artificial Intelligence, you can build chatbots and virtual assistants that could accompany your customers while overcoming small challenges. This way you can significantly reduce the cost of the customer service and improve customer experience.
AI-powered cybersecurity solutions for banking
Even though bank employees have to follow extremely strict procedures and financial institutions have probably the best cybersecurity solutions, from time to time some hackers succeed in breaching their systems. Data and money can be stolen from the company, but there is one loss that is even more devastating for the bank that experienced a cyberattack — the loss of the customers' trust.
The best method to prevent it is to implement AI-powered cybersecurity solutions. AI software is continuously analyzing activity in banking systems. It learns from the user's actions and reacts when unusual behavior is spotted.
Read also: AI and IoT transform healthcare by improving telemedicine services
The future role of AI in banking
The current state of Artificial Intelligence in banking and other industries allows us to assume that AI-based solutions could be widely adopted by financial companies all over the world in the coming years. Fintech companies may continue coming up with new, interesting AI applications. We can help you adopt AI-powered solutions in your organization. Contact us if you would like to learn more about using AI in banking.