53 statistics about software developers
The IT industry is growing exponentially, and the demand of the business world for programming products and services is enormous. Consequently, the demand for developers is constantly increasing. How can companies efficiently hire programmers? Due to specific skills, finding specialists is challenging, but knowing the programmer's profile may help. Let's take a look at the demands, skills, abilities and expectations of software developers.
Number of software developers worldwide

Let's start with the number of coding specialists. How big is the software developers' group?
According to Evans Data, it is predicted that by 2024 there will be 28,7 million programmers worldwide.
The growth is dynamic – in 2019 there were already 23,9 million software developers, while in 2021 they were 600,000 more.
Demography
Who are software developers? Do stereotypes reflect reality? Below we present statistics regarding the demography of programmers.
Gender
The world of programmers is dominated by men. However, It doesn't mean that there are no female software developers. When we compare the number of women working as a programmer in the whole world to the United States, the situation is quite comparable.
In 2020, in the United States, over 20% of computer programmers were women.
19.5% of people working in this profession worldwide in Q3 2021 were women.
Average age
The following statistics confirm that programmers are mostly young people.
In 3Q 2021, 32,5% of developers were aged between 25-34 years.
Location

Over half of the programmers live in 10 cities located in America, Europe and Asia.
18.33% of developers live in the United States.
Other popular countries are: India, Germany, the United Kingdom, Canada, France, Brazil, Poland, Netherlands, Italy.
COMPETENCES

The following data show how programmers learn, how effective they are and what are their professional roles.
Getting knowledge

The field of programming is changing very dynamically. Therefore, continuous training is a must. Many software developers claim to have on-the-job training or attend online courses in order to maintain an accurate level of skills.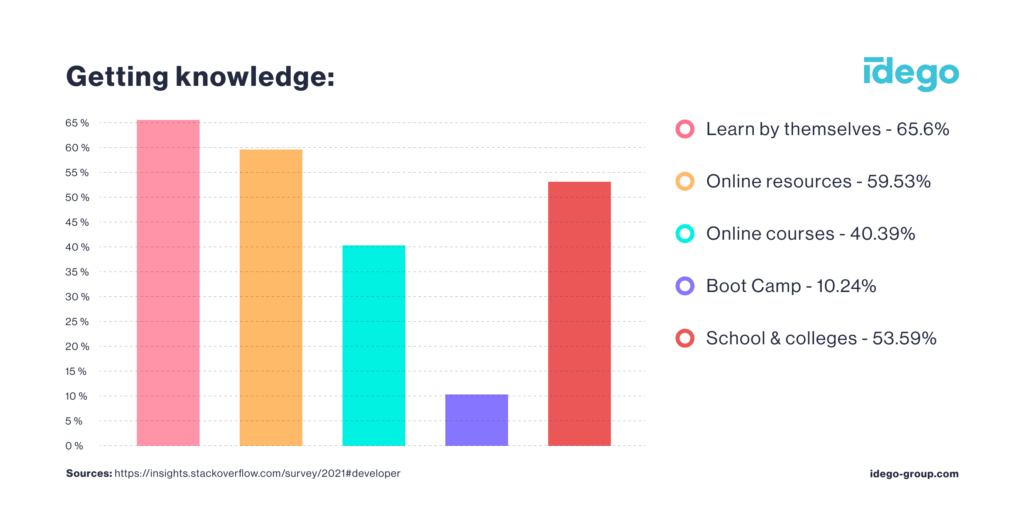 Most popular roles

Almost half of the programmers (49.47%) are full-stack developers.
There are 43.73% backend developers.
Slightly more than a quarter (27.42%) of programmers are frontend developers.
Work efficiency
Can the speed and efficiency of work vary significantly from developer to developer?

EMPLOYMENT

Comparing the market demand to the number of specialists, it seems to be impossible that some coders still do not have a job. But the data below shows that there are some specialists who search for work.
6.4 % of programmers were looking for a job while being unemployed.
5.1% of software developers were employed part-time only.
Full-time work is not the only form of employment practiced by programmers.
6.5% of software developers are freelancers or sole proprietors. 
41.62% of programmers work for companies that employ less than 100 people.

When it comes to hiring a software developer:
28. In 2019 it usually took 66 days on average to hire a tech specialist (compared to 43-days long average hiring process in other industries).


Type of companies

29. 38% of developers work for the technology industry.
30. 12% work for financial services and 9% for retail/consumers and e-commerce. Other sectors are e.g.: Pharmacy, Government, Energy or Education, and Non-Profit.
31. 32% of developers who haven't obtained a Bachelor's degree work for small companies.
Support during COVID-19

Most companies offered various solutions to help their teams work out of the office.
32. 48% companies invested in cloud-enabled tools and technologies.
33. 47% of companies supported developers with digital collaboration tools,
34. 41% of organizations offered productivity management tools.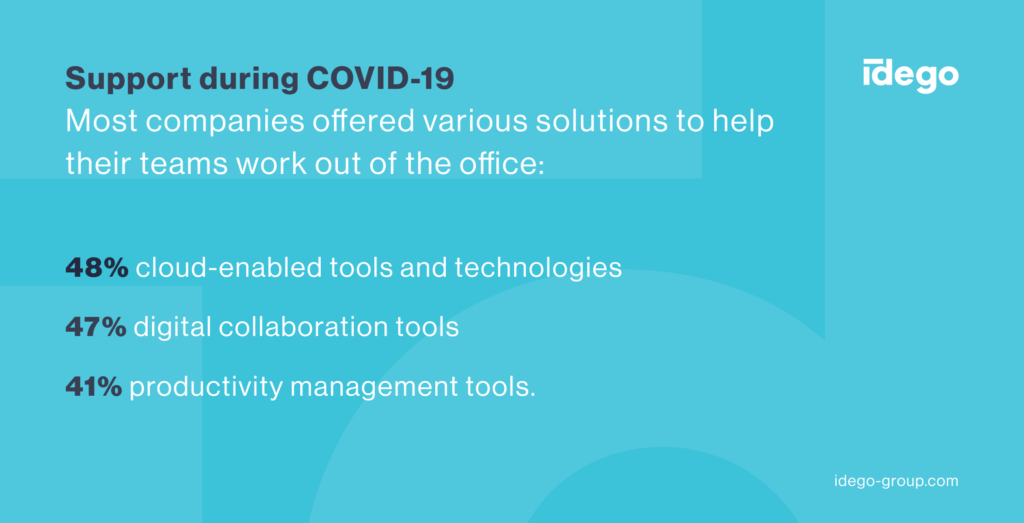 Salary

It is commonly known that programmers earn above average. But what does it mean exactly? Let's have a look at the United States market and Europe.
35. The median wage in the US in 2020 was $89,190 per year. 
36. In Europe, when we take into account back-end, front-end, full-stack and lead developers, the median wages in 2020 were: in Munich, Germany: 70,000 Euro per year, in London, UK: 66,000, in Amsterdam, Netherlands: 57,500, Brussels, Belgium: 48,700, Paris, France: 45,000.
SOFTWARE SECTOR, PROGRAMMING LANGUAGE, WEB FRAMEWORK
37. According to Slashdata, there were 16,9 million Web Apps Specialists worldwide in 2019, 13.6 million Backend Services specialists, 13.1 million Mobile Apps specialists, 12.3 million Desktop Apps specialists, 12.2  million Ml, AI and Data Science specialists, 9.3 million Internet of Things specialists,  8.8 million Games Specialists and 5.8 million AR/VR specialists.
38. The 5 top programming languages are JavaScript inc. TypeScript&CoffeScript – 61%, Python 42.2%, Java – 35.8%, PHP 27.3%, C# – 26.3%. 
When we compare Q3 to Q1 in 2021, we can notice a subtle increase in the most popular languages. The popularity of two has declined a little: Java and C#.
39. Taking into account the three most popular web frameworks, React.js – 40.14%; jQuery – 34.43%, Express – 23.82% were on top.



EXPERIENCE

When we consider the young age of programmers, it is quite logical that the work experience of this group of people can't be long.

40. 59.4% of software developers have less than 5 years of experience.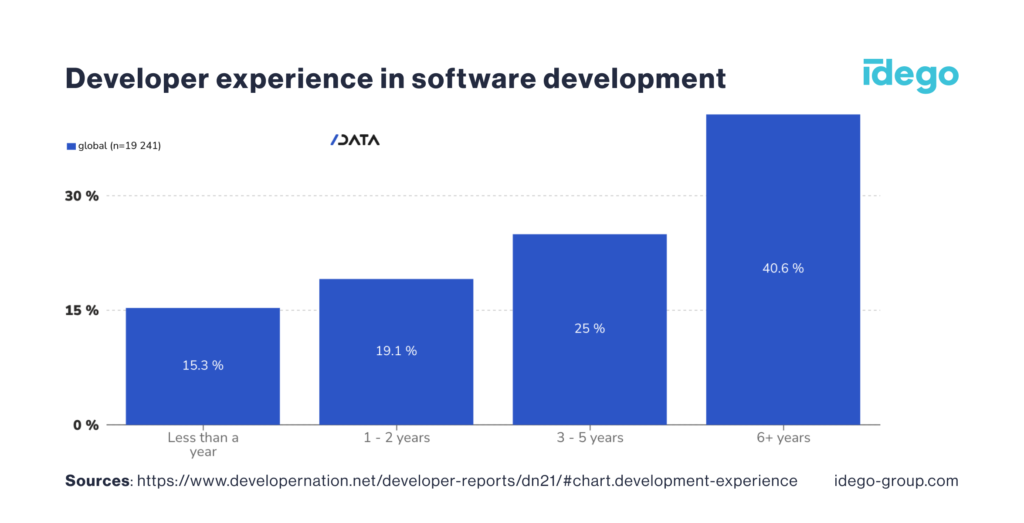 What direction of development is preferred for the majority in this group?

41. 62% of developers in individual contributor roles want to become technical leads rather than managers.
42. 36.2% of programmers aspire to learn the Go language next.
PERSONAL LIFE

Let's have a few insights info developers' personal lives and ways of spending their free time.
Family status
43. Over 60%, exactly 61.1%, do not have children or other dependents. This can be explained by the average age of the group, which is very young.
Ways to relax
44. 61% of developers spend their downtime listening to music. 
45. 52% of programmers just surf the web while they're not coding.
46. 10.5% of specialists meditate during a break from work.
Health problems
47. 3.5% of software developers have a disability. Mostly, they have difficulty seeing and hearing. Some are unable to walk or stand without assistance.
48. 10% of developers admit that they have problems with anxiety disorder.
Most popular social media

49. The top most popular Social Media among software developers are: Reddit – 17%, YouTube – 16.4%, WhatsApp – 15.8%, Facebook – 15.6% and Twitter – 13.5 %. 
50. Instagram ranks sixth – 7.4% of programmers use this medium.  
51. 6.6% of developers declare that they do not use any Social Media.
52. LinkedIn is used by 5.3% of programmers. 
53. Other media affect less than 5% of people in this industry.

Summing up the above statistics, we know that an average software developer is a young person who earns much above average salary. Usually, he is a man, but it is worth remembering that there are 20% of women in this IT world. Frequently the experience is less than 5 years.
Programmers are people often learning on their own. They need to develop their knowledge all the time as this area changes dynamically. The most popular programming languages are JavaScript, Python, Java, PHP, C#. Their most popular Social Media is Reddit.
Wish to read more about the programming world? Stay tuned and follow our blog.